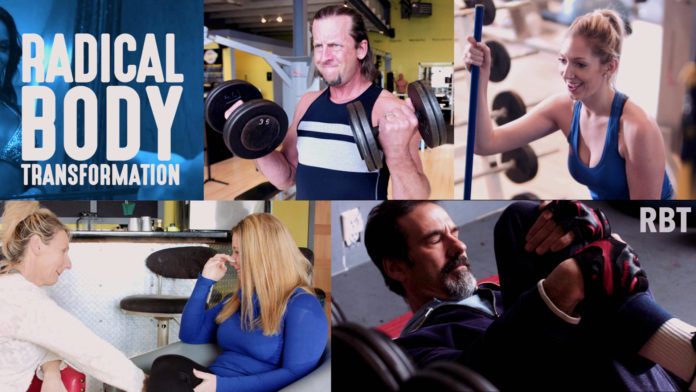 This documentary length season finale episode of RBT (shot in 4k) tracks the fitness journeys of four unique individuals on divergent paths with varied success.  Taking place in Cobourg, Ontario, Canada at Bodilogix Fitness gym, and broken up into chapters, trainers Andrea Johnson @andrea_the_maverick as well as Alison Burnham @sk8ter_ali go about transforming people's lives.  Stories include:
Holly Spencer – The tall blonde who has always lacked athletic ability has some unexpected surprises!
David Long – The husband of trainer Andrea, has to overcome injuries, being a stay at home dad, the difficulties of running a gym, working with his wife as his trainer and the ups and downs of marriage and parenthood.
Melissa Brown – An overweight single mom, who has to face additional hurdles just as she begins to reach her goals!
Mark Froncz – A real estate agent who suffers with alcoholism and the goal of getting and staying clean through fitness.
All four stories have their own twist endings in this episode!  Which ones will makes it and which ones won't?  In this exciting episode we see the truth of any meaningful goal, there will always be setbacks and unforeseen obstacles.  Watch as the unexpected unfolds as we follow their journeys over several months and years!
Episode 30
RBT Season 2 Finale
Title: Do or Do Not
Writer/Director/Producer– James Hergott
Host – James Hergott
Episode Host – Andrea Johnson
Additional Host – Alison Burnham
Director of Photography – Adrian D'Alessandro @dalessandrofilms
Editor – Adrian D'Alessandro
Executive Producer – James Hergott
Holly's Wedding Footage – Peyton Brothers Film @peytonbrothers
Featuring:
Holly Spencer @holly.bickle
David Long
Melissa Brown
Mark Froncz
Distributed by NPC News Online, Amazon Prime, MY Spotlight Independent and Lateflix.com
Trainers:
Andrea Johnson
Alison Burnham
Special Thanks:
Bodilogix Fitness
City of Cobourg @cobourgmedia @graham_beer
Harbinger Fitness @harbingerfitness
Swole O'clock Watches @swoleoclock
Popeyes Supplements
Popeyes Durham
The Crystal Suit @thecrystalsuit
Colleen McConnell
NPC
Canadian Physique Alliance @canadianphysiquealliance
IFBB
Jim Manion
Frank Sepe @frank_sepe
Ron Hache
Amazon Prime
MY Spotlight Independent @myspotlightindependent
Lateflix.com
Harrison Astroff
Amazon
Amazon Studios
The show is on Amazon Prime and various other distribution windows to be announced (30 episodes have been released so far on NPC and Amazon Prime).  Distribution partners include MY Spotlight Independent and LateFlix.com (distributor for Amazon US & UK).  Amazon link:
https://amzn.to/2ASGlvP
About RBT:  Bodybuilder and filmmaker James Hergott meets people from all walks of life yearning to transform their bodies as they embark on their journey towards inner and outer growth and development in this inspiring documentary series, starring James Hergott and various special guests including the legendary Arnold Schwarzenegger.
#bodybuilding #weightloss #transformation #fitness #rbt #jameshergott #radicalbodytransformation #nevergiveup #personaltrainer #inspiration #motivation #nutrition #fitfam #fit #fitnessmotivation #fitspo #diet #transformationstuesday @colossusfit @coachlittlejoe @popeyesdurham @lateflix @myspotlightindependent #goals #teamcolossus #physique #popeyesdurham #popeyessupplements  #popeyesstrong #selfimprovement #cobourg @npcnewsonlineofficialpage
James Hergott links: