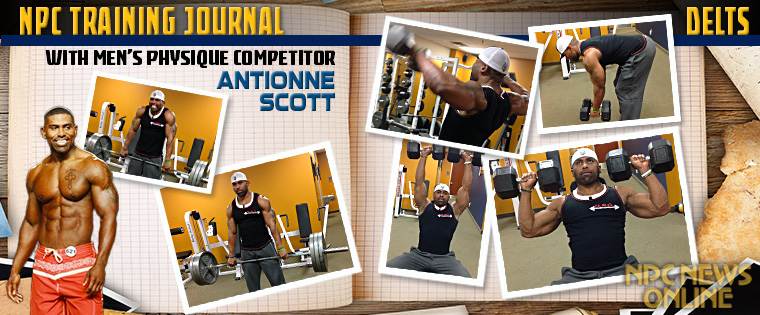 Even elite athletes can let themselves go only to suddenly realize just how out of shape they are – which was exactly the case with Antionne Scott. A four-year letterman at defensive end for the University of Mississippi football team, Antionne played two seasons with the AFL's Arizona rattlers before coming to that realization shortly after his football career came to an end.
"I realized I was a strong, unhealthy guy at 310 pounds," Antionne says. "So something had to change."
A year later, Antionne entered his first bodybuilding contest, the NPC Southern Classic. But it wasn't until 2011 that he found a home in the Men's Physique division. Scott won the overall at his first Physique contest, the Power Shack Classic in 2011. In 2012, Antionne racked up two more Overall wins – at the LA Grand Prix and Greater Gulf States – and a pair of top-five finishes at the USA Championships and the Nationals.
Here, the 33-year-old takes us through one of his typical shoulder workouts as he preps for the 2013 season.
"Shoulder development is extremely important for the development of any physique," Antionne says. "Especially the stream-lined V-taper they are looking for in the Men's Physique division. Shoulders are a strength for me, but my school of thought is to strengthen my strengths and improve my weaknesses. There is always room for improvement!"
Go here to see more contest photos of Antionne Scott!
EXERCISE 1 Dumbbell Shoulder Press
Sets 4 Reps15, 12, 10, 8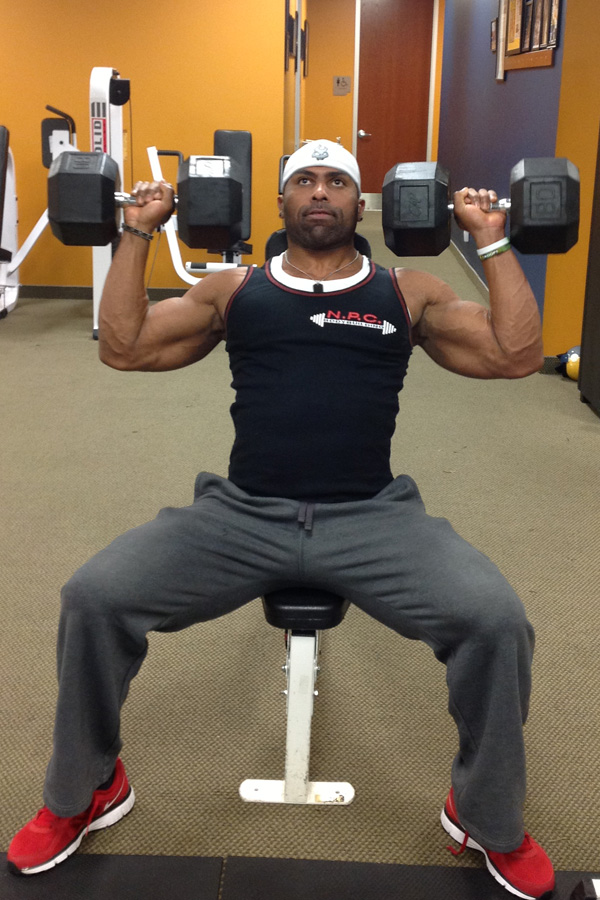 Antionne says: "I like to start out with the dumbbell shoulder press because it is a great stabilizing movement and it gets my shoulders warm for the rest of the workout. I usually start with dumbbells, but I'll alternate with machine presses every other week or so."
EXERCISE 2 Rotating Dumbbell Shoulder Press
Sets 4 Reps15, 12, 10, 8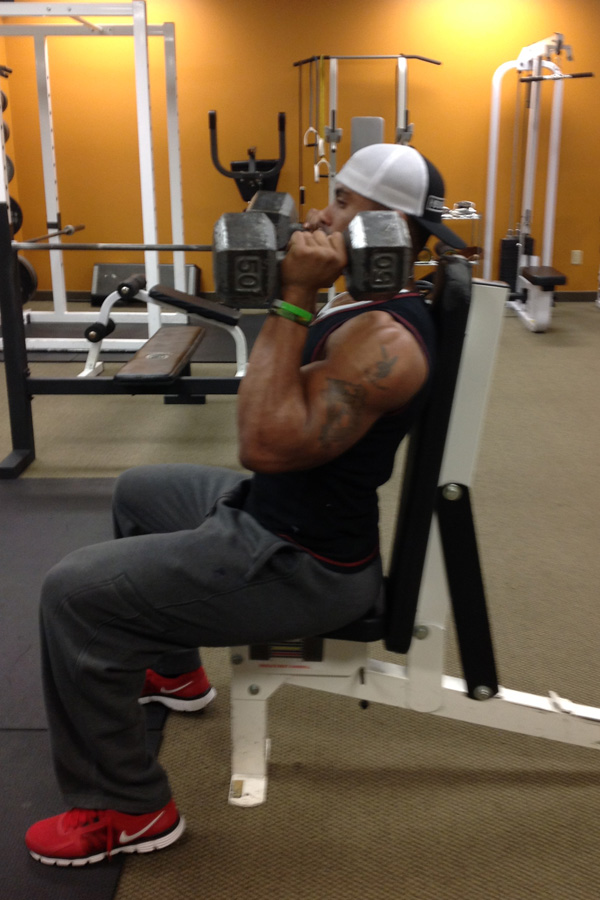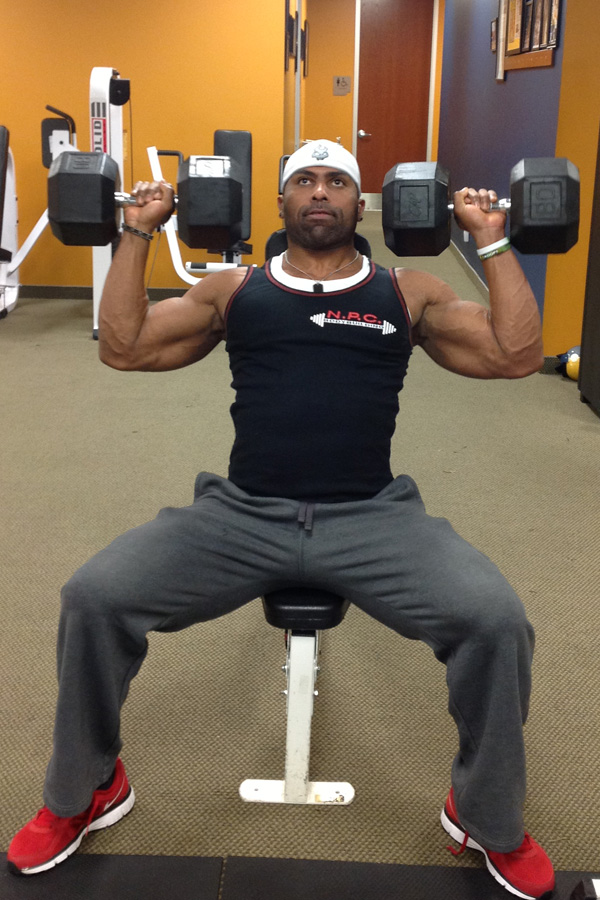 Antionne says: "After getting blood flow in the shoulders with the first movement, turning the palms inward then rotating them forward at the top of the press emphasizes anterior/front deltoid development."
EXERCISE 3 Dumbbell Lateral Raise
Sets 4 Reps12, 10, 8, 10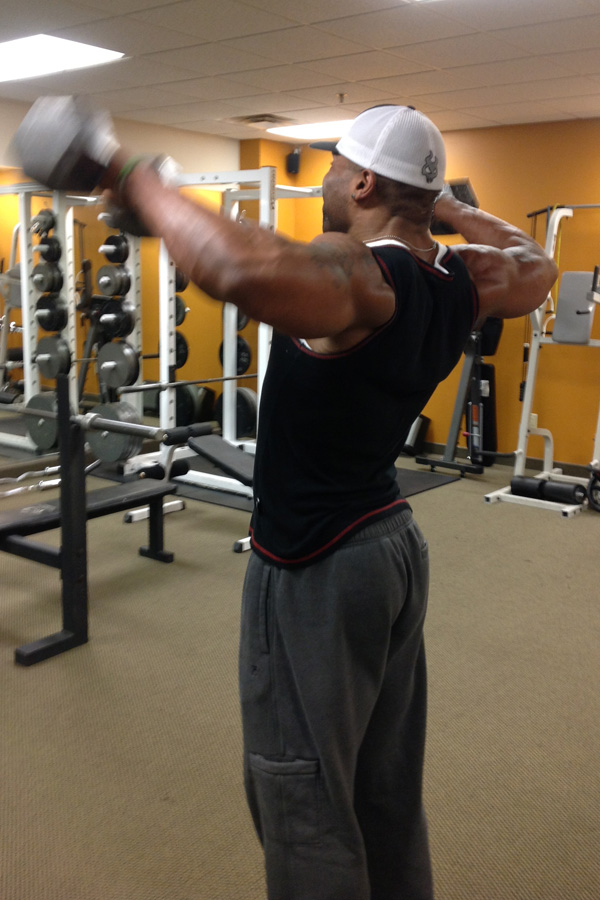 Antionne says: "I go with a lower rep range here to build a little more mass in that area. I feel more comfortable going heavier later in my training session because the blood is flowing and I am warm. I go down to 8 reps and pyramid up to finish the movement off by putting as much blood in the area at the end as possible."
EXERCISE 4 Bent Over Lateral Raise
Sets 4 Reps12, 10, 8, 10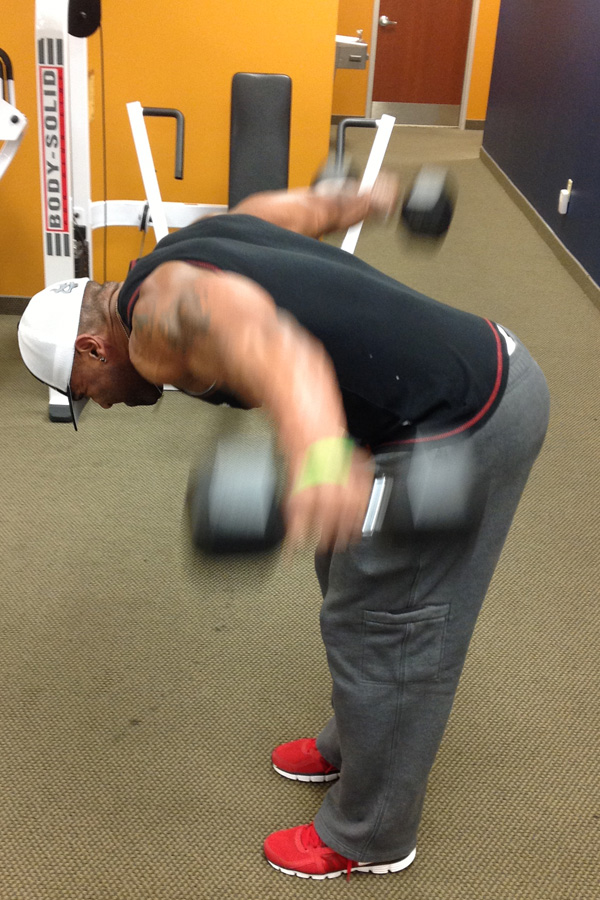 Antionne says: "This movement fills in the posterior/rear head of the deltoid for overall development of the muscle. It's important to balance your shoulders from front to back to have a balanced physique."
EXERCISE 5 Barbell Shrugs
Sets 4 Reps12, 10, 8, 6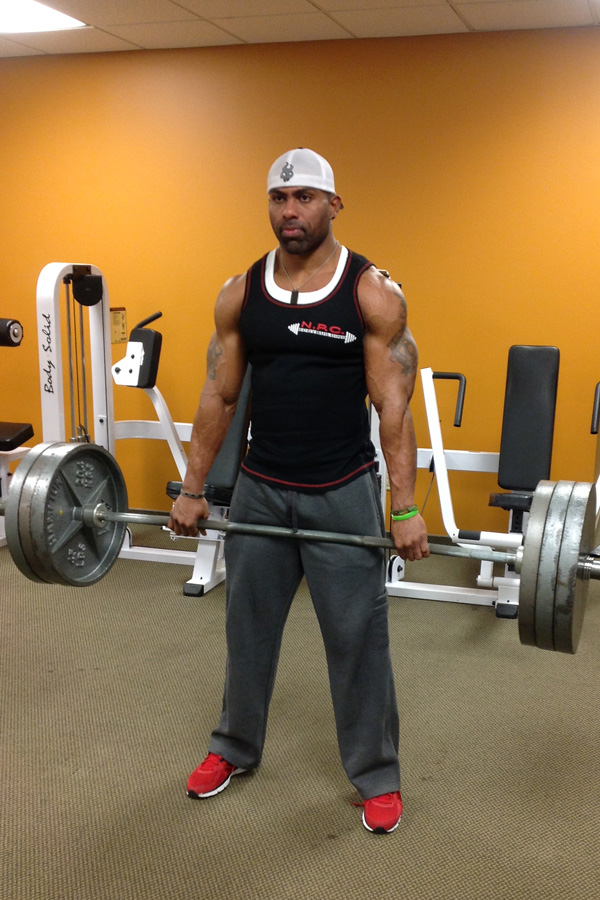 Antionne says: "Shrugs are more of a mass movement and help with total shoulder development, the trapezius deltoid tie in, and overall size of the muscle belly. This is a great finishing movement to tie everything together."