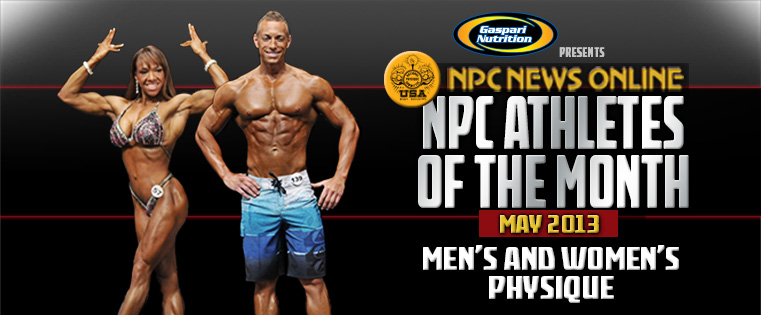 Geobanny Paula and Leilia Thompson have been named the NPC May Athletes of the Month in Men's and Women's Physique. Check out their full profiles below!
MEN'S PHYSIQUE: GEOBANNY PAULA
Recent Accomplishment: Junior USA Class D Winner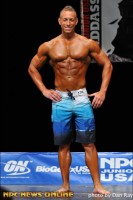 Age 25
Height 5'10
Weight 180
Contest History/Highlights 2012: Junior USA Championships 14th Class B; Junior Nationals 9th Class B; USA Championships 4th Class D; IFBB North Americans 6th Class D; Nationals DNP Class D; 2011: Gold Coast Championships Tall Class; Southern States 3rd Class B
PHYSIQUE TRANSITION "I started weight training for football and track when I was 14, and started bodybuilding at 17. when I was 14 and also ran track bodybuilding since 17. I was so excited about the Men's Physique division, I think it is a more appealing natural look! I competed in bodybuilding for five years prior to switching over to Men's Physique as soon as the category commenced back in 2011. I switched, made the transition and slowly brought down my size in order to be competitive in such rising category!"
HIGHER POWER "All of my motivation, inspiration and passion comes from God! To Him be the glory and for Him I shine His divine light through fitness.I would love to win the [Men's Physique Showdown on Olympia Weekend] and be able to spread God's light through the fitness industry and helping others to believe in themselves and strengthen their faith."
EIGHT IS ENOUGH "I've been living on my own since I was 17, and that has without a doubt carved me into the man I am today. Through self-financial backing I have been blessed to travel the country in search of the prestigious pro status… eight attempts! But quitting has never been an option. My willpower to persevere combined with God's grace is what has gotten me through it all."
ROLE MODELS "Since I was seven years old, I looked up to Arnold and have always wanted arms like him! As I began my bodybuilding career four names always crossed my mind and I always watched their videos – Flex Wheeler, Jay Cutler, Ronnie Coleman and Arnold."
Go to page 2 to see Leilia Thompson's profile!