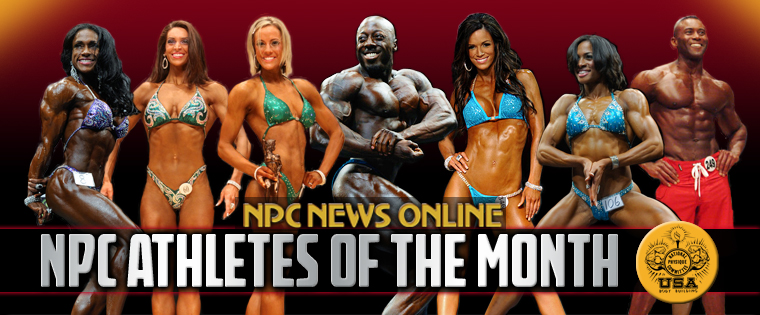 The first-ever NPC Athletes of The Month have been selected! Congratulations to George Peterson, Sheena Ohlig, Glenese Markes, Amber Masino, Kelsie Bergin, Michael Anderson and Amber Leon, who have been selected as the March NPC Athlete of The Month in their respective divisions.
Each month, NPC Chairman Jim Manion will select an Athlete of the Month in each of the organization's seven divisions – Men's and Women's Bodybuilding, Figure, Bikini, Fitness and Men's and Women's Physique – based on the information provided by contest promoters across the country and featured in the NPC News Online Contest Roundups every Monday.
"It was really the first full month of the NPC contest season, and we had some great athletes to choose from," Manion said. "I was able to see a few of these athletes in person and was very impressed with the talent level in all of the divisions. It just goes to show how much the NPC has grown and continues to grow. Congratulations to all of the athletes who were selected."
MEN'S BODYBUILDING: GEORGE PETERSON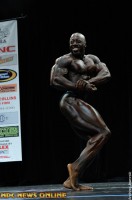 George Peterson wasn't just flying under the radar coming into the 2012 Steve Stone New York Metropolitans – he was so far under, he might as well have been on the subway.
His last contest was in 2008, when he place 7th in the middleweight division of the Mets. Four years later, he was ready to step on stage again in the light heavies, having added 30 pounds of muscle to his frame.
"I stayed under the radar, knowing the improvements I needed to make," Peterson says. "I did that and just felt like now was the right time to step on stage."
Always a fast gainer, Peterson didn't start training with weights seriously until 2007. "My body just developed very quickly," Peterson ays. "I really didn't do much before then."
At the Mets, Peterson was good enough to beat out Anthoneil Champaigne – a top-three competitor in the heavyweight division at the 2010 Nationals – for the overall title. He won't rush things this time, either however. In all likelihood, he won't step on stage at the national level until 2013.
AGE: 27
HEIGHT: 5'7
CONTEST WEIGHT: 196 pounds
LIVES: Jamaica, Queens
CONTEST HISTORY: 2012: Steve Stone New York Metropolitans, 1st Light Heavyweight and Overall winner; 2008: New York Metropolitans, 7th Middleweight
ATHLETIC BACKGROUND: "I always stayed active. I was heavy in to martial arts, I started when was 6 or 7."
OCCUPATION: Cable Television Technician
PHYSIQUE ROLE MODELS/INFLUENCES: "Without a doubt Shawn Ray and Flex Wheeler. Those guys were the kind of physiques that wanted to look like. I used to look at training videos of those guys online and kind of mimic what they were doing."
BEST BODYPART: Back
FAVORITE EXERCISE: Squats. "Because that's the exercise that I know is gonna help get me where I need to be."
WHAT'S NEXT: Likely taking the rest of the year off before competing in a pro qualifier in 2013.
3-5 YEAR GOAL: "In three years, developing my body to be able to compete with the pros. In five years, actually contending for a top-five spot in the Olympia and Arnold Classic. Hopefully be in the top three and then eventually Number One!"
Photos: Andrzej Jaworski (http://www.ajjawa.com)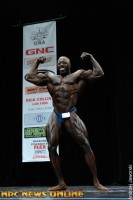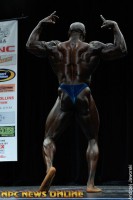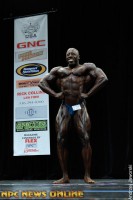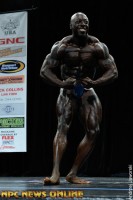 WOMEN'S PHYSIQUE: SHEENA OHLIG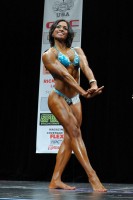 It isn't often that an athlete wins their class in their second-ever physique competition, then looks in the mirror and decides it's time for a change. But that's exactly what Sheena Ohlig did after winning her class in figure at the 2011 East Coast Classic last year.
"I've always been a heavy lifter and I'm naturally muscular with a larger frame," said Ohlig, a former NCAA Division I track athlete. "It was so difficult preparing for figure because the resounding response was my physique was just too overpowering for figure."
After the East Classic, Ohlig decided to make the move – to the newly-formed Women's Physique division. The move paid off, as she won the Overall at the Steve Stone New York Mets on March 31.
"I had the most fun with this contest prep versus the other two," Ohlig says. "For figure, I was doing up to two hours of cardio trying to trim down my physique and have softer lines. Coming into this show, I was able to lift heavy and do only about 45 minutes of cardio. Everything worked together for my specific frame."
AGE: 28
HEIGHT: 5'7
LIVES: Collingswood, New Jersey
CONTEST WEIGHT: 148 pounds
CONTEST HISTORY: 2012: Steve Stone Metropolitans, Overall winner; 2011: Garden State Classic, 3rd Class C (Figure); East Coast Classic, 2011 1st Class C (Figure)
ATHLETIC BACKGROUND: "I've been an athlete my who life. I received a track scholarship (Hurdler, sprinter) to University of Memphis."
OCCUPATION: Personal Trainer
PHYSIQUE ROLE MODELS/INFLUENCES: "Before the physique division was established my role models were the figure girls – Erin Stern, Ava Cowan, Theresa Anthony. I looked ath them and said 'Man, I would love to do that.'"
BEST BODYPART: "My back – I worked really hard on it and love the way that came in."
FAVORITE EXERCISE: Pullups
NEXT CONTEST: NPC Junior USAs on May 19th
ONE YEAR GOAL: To achieve my IFBB pro card.
3-5 YEAR GOAL: "I would love to have an awesome sponsor, be on the cover of a magazine and really make a name for myself in the industry. I would really like to be known as an ambassador for fitness and women's training and lifting heavy, really getting to the gym and working hard. And of course get some titles under my belt!"
Photos: Andrzej Jaworski (http://www.ajjawa.com)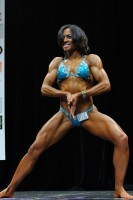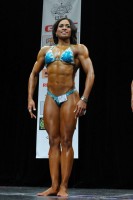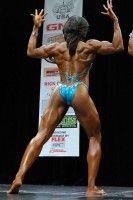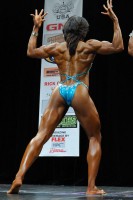 WOMEN'S BODYBUILDING: GLENESE MARKES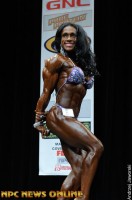 Four years is a long time to away from the stage – enough time that, just simply getting back into contest shape is an accomplishment all on it's own. But Glenese Markes wasn't going to stop there.
Markes, who last competed in figure in 2008, originally was looking to make her return in the Women's Physique division. After seeing some of the early IFBB contests, however, she decided she needed to take it one step further and make her comeback in Women's Bodybuilding – but didn't make the decision until the morning of the Steve Stone New York Mets.
"I was still too muscular, a little conditioned," says Markes, who put on 10 pounds of muscle from her days as a figure competitor. "So the morning of the of the show we decided, 'Let's just do bodybuilding'. I was backstage trying to learn the poses, because they are a little different from physique. I was a little nervous because I was rushed."
It didn't make a difference, as Markes stood out from the rest to run away with the overall title in Women's Bodybuilding.
"I didn't want to get much bigger for bodybuilding," Markes says, "but I feel good about it and it actually opened my eyes a little bit based on the responses and feedback I've gotten."
Photos: Andrzej Jaworski (http://www.ajjawa.com)
AGE: 33
HEIGHT: 5'3
CONTEST WEIGHT: 126 pounds
LIVES: Brooklyn, New York
CONTEST HISTORY: 2012: Steve Stone New York Metropolitans, Middleweight and Overall winner; 2008: Eastern USA 3rd Class A (Figure); Team Universe 8th Class B; Arnold Amatuer 2nd Class B; 2007: Team Universe, 16th Class A (Figure); 2007: Southern USA; Kim Klein Classic, 2nd Class A (Figure); Team Universe 16th Class A (Figure)
ATHLETIC BACKGROUND: "I played tennis, swam, ran track and field and also played what they called netball."
OCCUPATION: Post Producer and Fitness Consultant. "I'm responsible for overseeing the process of getting footage developed into digital form and seeing the color process go down and get it ready for editorial. "
PHYSIQUE ROLE MODELS/INFLUENCES: Lenda Murray, Bev Francis
BEST BODYPART: Back
FAVORITE EXERCISE: Squats. "I can do up to 315 for about 6-8 reps."
WHAT'S NEXT: "I would love to get a pro card this year, I'm going for it 100 percent. Haven't decided yet but I'm thinking the Team Universe of the USAs."
3-5 YEAR GOAL: "I want to compete at the Olympia. It's a goal of mine to really take it to the top. I just want to thrive and do my best and be recognized for it. Hopefully down the line be another Iris Kyle – maybe not at level but at somee degree show what I'm about, as small as I am but muscular at the same time."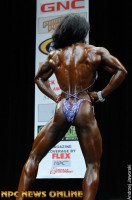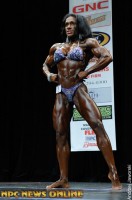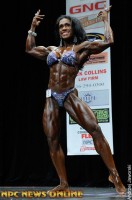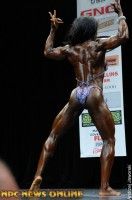 FIGURE: ANGELA MASINO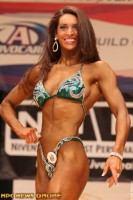 Training hard was engrained in Angelina Masino at a young age.
"My dad was an Ironman Triathlete," Masino says. "He used to take me to the gym before school when I was like 10 or 11. I've always had that background."
It wasn't until she met a bodybuilder two years ago, however, that she decided to take her training to the next level.
"I met a bodybuilder name Annette McBride, she really showed me that women could lift heavy weights," Masino says. "I always lifted, but never lifted very heavy. It was nice to see a girl do that."
Masino decided to compete in figure in 2011, and she didn't waste any time. She did four contests in four weeks last season, winning her class in two and placing second in another. This year, she picked up where she left off by winning her class and the Overall at the Vancouver USA Naturals on March 31.
AGE: 31
HEIGHT: 5'5 ¾
CONTEST WEIGHT: 124 pounds
CONTEST HISTORY: 2012: Vancouver USA Naturals, 1st Class C and overall; 2011: Vancouver USA Naturals 1st Class C; Big Sky Montana 1st Class C; Emerald Cup 8th Class C; Empire Classic 2nd Class C
ATHLETIC BACKGROUND: "I ran track in high school and started lifting weights in my early 20s."
OCCUPATION: Works at the Post Office and goes to school for Nutrition and Exercise Physiology.
PHYSIQUE ROLE MODELS/INFLUENCES: Erin Stern. "Just looking at her physique and how far she's come. Also, I read one time she squatted 315 and that was a goal of mine at the beginning so I just loved her for that!"
BEST BODYPART: Biceps
FAVORITE EXERCISE: Squats
WHAT'S NEXT: "I'm hitting the Emerald Cup stage in two weeks and then going to the Atlantic States in New York – and then hopefully a national-level show this year! I want to make sure I'm ready."
3-5 YEAR GOAL: "Hopefully continuing to compete on the pro stage at the Olympia and the Arnold. Be a registered dietician and exercise physiologist to be in that field working with athletes."
Photos: Mark Mason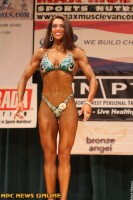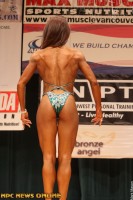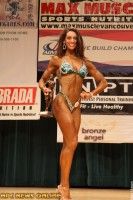 BIKINI: KELSIE BERGIN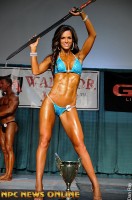 Kelsie Bergin of Kaufman, Texas wasn't really thinking about entering the Ronnie Coleman Classic – that is, until her trainer told her she was, one week prior to the contest.
"He told me I was doing it and I was like – but that's next Saturday!," Bergin says. "And he said, 'Youre doing it. You're ready.'"
She sure was. Competing for the first time, Bergin won her class and the overall Bikini title at an event with over 400 competitors, including 117 in the Bikini division.
"It was intimidating," Bergin said. "It was a very big show and I'm very excited I won."
AGE: 25
HEIGHT: 5'8"
CONTEST WEIGHT: 124 pounds
LIVES: Kaufman, Texas
CONTEST HISTORY: 2012 Ronnie Coleman Classic, 1st Class D and overall
ATHLETIC BACKGROUND: "I had done gymnastics and cheerleading my whole life and have been working out since high school. I just got more into it and love lifting weights. It's a good stress reliever too!"
OCCUPATION: Hair Dresser
PHYSIQUE ROLE MODELS/INFLUENCE: "The very first girl I followed was Sonia Gonzales. I saw here in a magazine and was like 'I wanna look like that!' And Amanda Latona, too."
BEST BODYPART: Abs
FAVORITE EXERCISE: Lunges.
WHAT'S NEXT: NPC USAs, July 31.
3 TO 5 YEARS: "Hopefully I'll an IFBB Pro doing photo shoots and all that good stuff. I'd love to keep getting better and compete in the Olympia. There's always room for improvement."
Photos: Dan Ray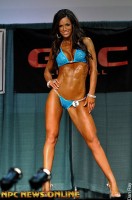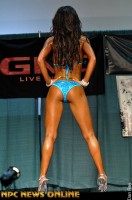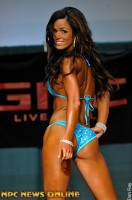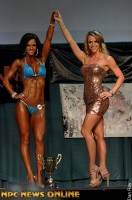 MEN'S PHYSIQUE: MICHAEL ANDERSON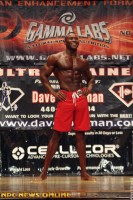 Michael Anderson admits there was a learning curve the first time he competed in the Men's Physique division."I didn't have a clue what I was doing, "Anderson says. "I went out there pumped up and flexed and looked like an idiot."
But Anderson kept at it. After some feedback from the judges gave him a better idea of what to do, Anderson placed in the top three of his class the following week. It was all downhill from there, as Anderson has now won the overall at his last three contests, most recently the Natural Ohio Championships on March 24.
"Last year, I didn't feel like I had enough experience under my belt to get on the national stage," Anderson says. "So I took the winter off to get ready for this year. I'm going to try to get on stage as much as possible before doing the Masters Nationals in July."
AGE: 39
HEIGHT: 6'1 ½
CONTEST WEIGHT: 188 pounds
LIVES: Cleveland, Ohio
CONTEST HISTORY: 2012: Natural Northern Ohio, Tall Class and overall winner; 2011: Natural Northern Ohio, 5th Tall Class; Natural Pennsylvania, 3rd Tall Class; Monster Mash, Tall Class and overall Winner; Mid Atlantic Grand Prix Tall Class and overall Winner
ATHLETIC BACKGROUND: "I ran track most of my life and held a couple of state championship titles and then a few national rankings in college. To be honest only continued lifting because found that attractive people got more attention! I went in and out of being consistent and inconsistent. I made the leap last year when I went to my first bodybuilding show and saw all facets of the sport- bikini, figure, classic men's bodybuildng and physique. I was hooked!"
OCCUPATION: General Maganger of personal training for FitWorks
PHYSIQUE ROLE MODELS/INFLUENCES: Lee Labrada. "When when was in high school, I was a cashier at a supermarket. I remember seeing one of his spreads in a magazine and though 'If only I could look like that one day!'"
BEST BODYPART: Shoulders
FAVORITE EXERCISE: Rear delt flyes
WHAT'S NEXT: Get on stage as much as possible before going for my pro card at the Masters Nationals in July.
3-5 YEAR GOAL: "I would like to be encouraging the next generation of athletes, just like I was encouraged to do this. I'd tell them to find a purpose for what they're doing, find their own ability to be the best they could be and show others what they're capable of even when they doubt themselves."
Photos: Amir Mirandi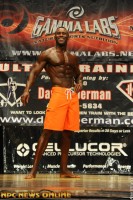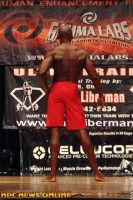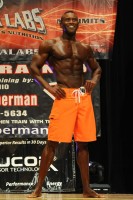 FITNESS: AMBER LEON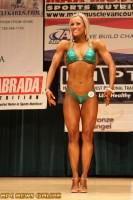 Amber Leon did a little bit of everything growing up.
"I started with ice skating, but that was too cold so I moved on to gymnastics," Leon says. "Then, in middle school and high school pole vaulting, until I tore my ACL so I stopped doing that. Then it was the cheerleading thing from high school into college at San Diego State."
With that background, it only makes sense that she would do a little bit of a few things when she started competing in the NPC – which she did, competing in both figure and fitness last year in her first two contest.
This year, Leon decided to focus on fitness – where she repeated as the Vancouver USA Natural Overall winner two weekends ago.
"This year I'm just going to stick to fitness," Leon says. "I wanted to see where my physique would line up in figure, but my passion is in fitness. It's really so much fun to keep that athleticism. I was a cheerleader for a long time so I'm really big on the performance aspect."
AGE: 28
HEIGHT: 5'4
CONTEST WEIGHT: 120 pounds
CONTEST HISTORY: 2012 Vancouver Naturals, Overall winner; 2011: Vancouver USA Naturals Class B and Overall winner; Emerald Cup 3rd Fitness Tall Class, 4th Figure in 5'4 to 5'5 Class
ROAD TO THE NPC: "I had always done the weight training thing and had been an athlete for as long as I can remember. As soon as I talked to Tanji Johnson and met another girl on the Save Fitness Team, I got involved."
OCCUPATION: Pursing Master's degree as a dietician
PHYSIQUE INFLUENCES/ROLE MODELS: Definitely Tanji Johnson. She is so influential and motivating and helpful. I really like Nicole Wilkins, I think she is an amazing athlete and gorgeous to boot. And IFBB Pro Sherri Vucik, on our Save Fitness Team – she has helped me a lot as far as confidence and with my routine.
BEST BODYPART: Arms. "I would say shoulders but I'm still working on those!"
FAVORITE EXERCISE: Deadlifts. "I love to hate 'em. They are very empowering."
WHAT'S NEXT: "Hoping to compete at a national-level show – probably Team Universe – with hopes of being pro."
3 TO 5 YEAR GOAL: "I hope to be competing in the IFBB, but if that doesn't go as planned then defeintely competing locally and regionally then keep trying to get that pro card!"
Photos: Mark Mason