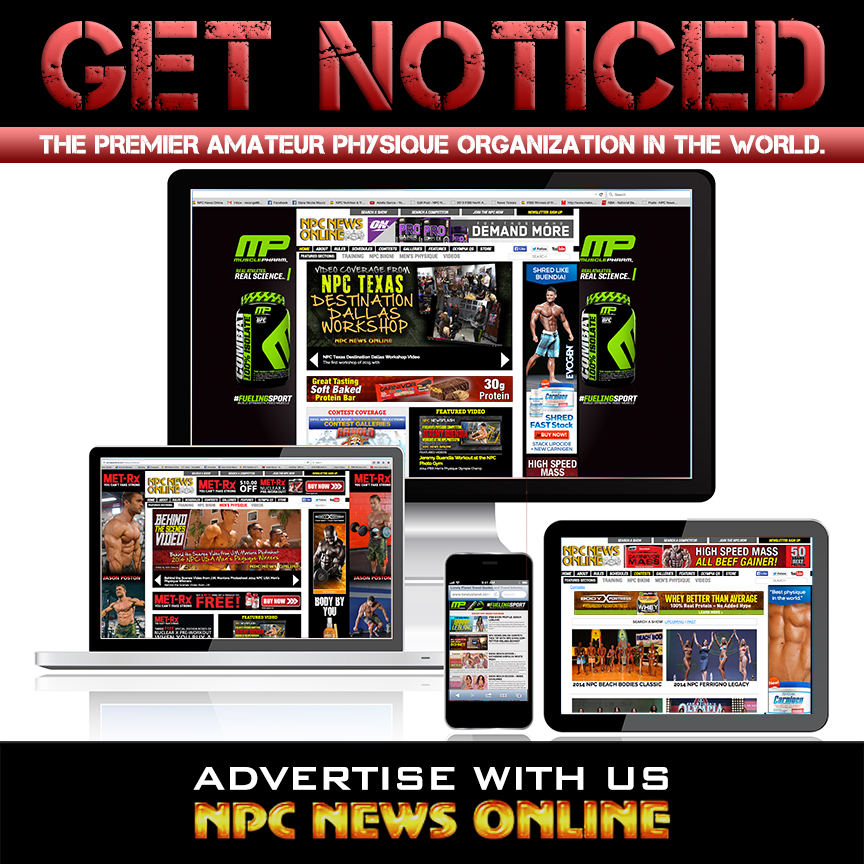 ABOUT US
The National Physique Committee is the premier amateur physique organization in the world. Since 1982, the top athletes in bodybuilding, fitness, figure, bikini and physique have started their careers in the NPC. Many of those athletes graduated to successful careers in the IFBB Professional League, a list that includes 24 Olympia and 38 Arnold Classic winners.
NPC athletes are regularly featured in and on the covers of international publications such as FLEX, Muscular Development, Muscle & Fitness and Muscle & Fitness Hers, Fitness Rx for Women and Ironman. The new Men's Physique and Women's Bikini Divisions has launched the NPC into the mainstream. Our NPC competitors in these divisions can be seen in national magazines, ad campaigns, etc. Plus, it is not uncommon to see major professional athletes and A-list celebrities such as Dwayne "The Rock" Johnson appearing at our events.
NPC NEWS ONLINE is the command center for everything NPC. We are the official website for the National Physique Committee. The NPC is comprised of tens of thousands of competitors and hundreds of live events, we are the premier amateur physique organization in the world.
We have sports nutrition consumers visiting the site everyday. How do we know that?
The majority of NPC athletes use sports nutrition products in both their pre and post contest regimens. The NPC is not just hardcore bodybuilding. The Men's Physique and Women's Bikini categories make up the majority of competitors in most contests around the country. The NPC is unique in that it has both a mainstream and hardcore social media reach.
CATEGORIES
The NPC contests are broken into the following categories:
Men's Physique
Women's Bikini
Men's Bodybuilding
Fitness
Women's Figure
Women's Physique
Women's Bodybuilding
OUR CORE TOPICS
| | |
| --- | --- |
| Contest Coverage, IFBB & NPC | Contest Galleries and Videos |
| Training and Nutrition | Galleries and Videos |
| NPC Athlete Updates | Rules, Score Sheets, Reports and Contest Schedules |
SOCIAL MEDIA METRICS
Here is a breakdown of NPC Online's presence on major social media platforms.
> 50K Twitter Followers
> 100K Facebook Likes
OUR AUDIENCE
Demographics
Here is a breakdown of the demographics of NPC Onlines's audience. This demographic information was sourced via Alexa, Twitter, Facebook and Google Analytics.
RATES & OPPORTUNITIES
NPC Online offers numerous advertising opportunities for advertisers to reach this valuable, targeted audience. Let us work with you to help design a package that targets the specific audience you are trying to reach and will best fit your budget.
1. Standard Advertising Opportunities
Ad prices are listed in either CPM ($10 cost per 1,000 impressions), or flat rate. (Dependent on Package)
| Ad Unit | Dimensions | Pricing | Rate |
| --- | --- | --- | --- |
| Leaderboard | 728×90 | CPM | EMAIL FOR RATE |
| Medium Rectangle | 300×250 | CPM | EMAIL FOR RATE |
| Skyscraper | 160×600 | CPM | EMAIL FOR RATE |
| Skins | 1850 x 1350 | CPM | EMAIL FOR RATE |
2. Other Opportunities
In addition to standard website banner advertising, NPC Online also offers the following:
CONTEST SPONSORSHIPS
CUSTOM BUILD OUTS
SECTION TAKEOVERS
FEATURED VIDEOS
These additional opportunities allow you to reach our targeted audience through non-traditional media. Often, the audience is more engaged when watching video or when on a mobile device. Contact us for additional information on how you can take advantage of these unique opportunities.
CONTENT PROVIDERS

We can provide your company with photo and video shoots, video editing, create advertising campaigns and banners as well as overall brand consultation. (Price upon request)