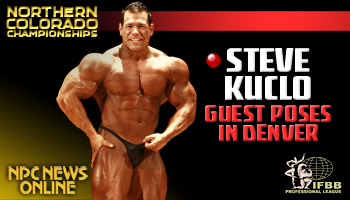 The IFBB New York Pro is just over five weeks away. Rookie IFBB Pro Steve Kuclo, one of the marquee names slated to compete that contest, made a guest posing appearance this week at the NPC Northern Colorado Championships.
Kuclo won the Super Heavyweight and Overall titles at last year's NPC USA Championships. The New York Pro will be held on Saturday, May 19.
For more info on the New York Pro: (516) 933-1111 or info@bevfrancis.com.