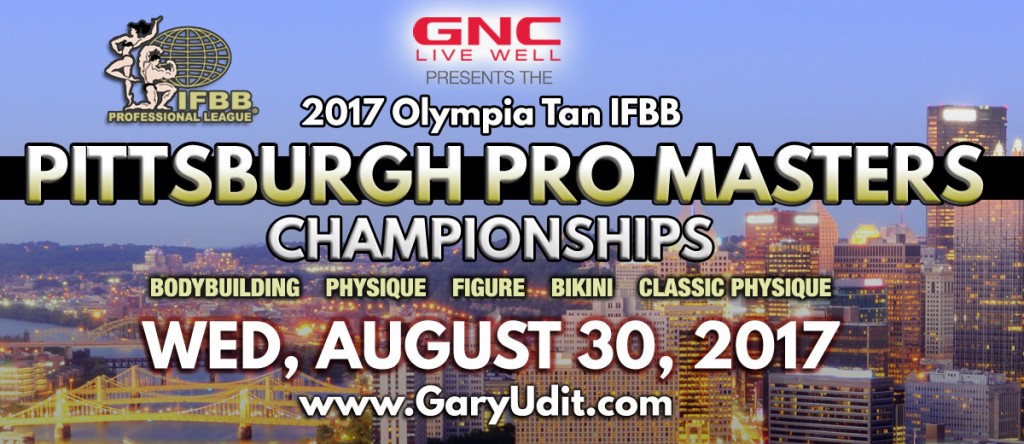 Bodybuilding | Figure | Bikini | Physique | Men's Classic Physique
---
THE MOST COMFORTABLE CONTEST FORMAT IN THE COUNTRY!!
---
TUESDAY, AUGUST 29
MANDATORY CHECK-INS
4:00 TO 8:00 PM
WEDNESDAY, AUGUST 30
OPTIONAL COMPETITOR MEETING
7:00 AM
PREJUDGING
8:00 AM
FINALS
5:00 PM
---
Event Venue:
SHERATON HOTEL
STATION SQUARE
300 W Station Square Dr.
Pittsburgh, PA 15219
NOTE:  For info on host hotel (lodging), click the HOTEL tab on this page
---
PLEASE NOTE
SPECIAL QUALIFICATIONS APPLY!!
MEN BODYBUILDING COMPETITORS ONLY!
Must have qualified to be an IFBB Pro at one of the following events:
NPC MASTERS NATIONALS
Masters Division at IFBB NORTH AMERICA
Masters Division at TEAM UNIVERSE
WOMEN BODYBUILDING, FIGURE, BIKINI, WOMEN PHYSIQUE AND MEN PHYSIQUE COMPETITORS
Only need to be a current IFBB Pro and of the correct age.
EVENT SCHEDULE
TUESDAY, AUGUST 29
MANDATORY CHECK-INS
4:00 TO 8:00 PM
WEDNESDAY, AUGUST 30
OPTIONAL COMPETITOR MEETING
7:00 AM
PREJUDGING
8:00 AM
FINALS
5:00 PM
---