EVOGEN NUTRITION ANNOUNCES IFBB PRO BODYBUILDER
JUSTIN COMPTON JOINS TEAM EVOGEN
With the release of their all-new recovery protein IsoJect™ on the horizon, Evogen Nutrition expands its team by signing pro bodybuilding phenom Justin Compton.

SEE JUSTIN COMPTON CONTEST GALLERY:CLICK HERE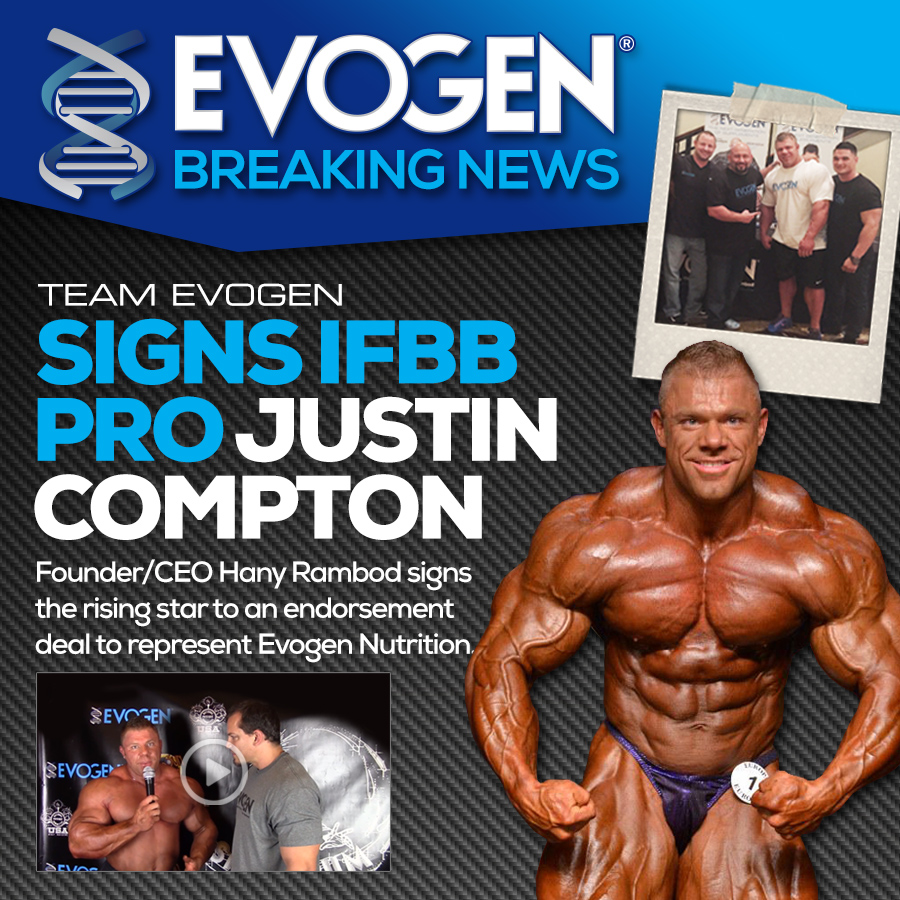 Evogen Nutrition®, a globally distributed sport nutrition company, has announced they have formally signed IFBB Pro Bodybuilder Justin Compton to their athlete roster. Compton, who is a graduate of University with a degree in Industrial Engineering Technology, has made his presence felt in the pro bodybuilding ranks with a blend of impressive mass and aesthetic lines. The pro bodybuilder has his sights on debuting as an Evogen athlete at the 2015 Arnold Classic Bodybuilding with the guidance of FST-7 bodybuilding system creator and Evogen CEO, Hany "The Pro Creator" Rambod.
"I couldn't be happier to have Justin on the team. We are not a large company and he passed up other more lucrative endorsement deals to be team," said Rambod. "Justin has been using our products and once we unveiled our product pipeline to him and let him try new products like IsoJect, it sealed the deal."
Compton is an extremely gifted bodybuilder and even handles his own training preparation for his competitions. However, Rambod will be serving more as a nutritional consultant helping infuse current and future Evogen innovations into Compton's supplement protocols. Rambod has a degree in biology with an emphasis on neurophysiology and has an impressive stable of athletes under his training and nutritional guidance that includes 13 Olympia titles. Adding a well-educated phenom like Compton on the roster was an easy decision.
"It's really cool to be a part of team that's open to custom designing products to help me achieve my goals. Products like EVP  and Cell KEM have been staples for me and the ability to contribute to the further success of Evogen is a huge honor," said Compton.
Over the last 8 month Evogen Nutrition has shifted strategic positioning going from a high end boutique supplement brand, to an aggressive and rapidly growing force in the global supplement industry. With the launches of the delicious Carnigen -Elite Energy & Recovery Catalyst and the critically acclaimed Lipocide -Metabolic Accelerator making waves among hardcore supplement users, IsoJect protein is sure to set the industry ablaze. The move to sign Compton is another example of Evogen's commitment to bringing high quality products to the market with high visibility among bodybuilding enthusiasts. Justin is also an athlete of Muscular Development magazine www.musculardevelopment.com and will be featured on their website in an upcoming series about his preparation for the 2015 Arnold.
On Friday, November 7th, Evogen will host a LIVE Facebook chat with Hany Rambod and Justin Compton from 12 to 1PM PST at www.facebook.com/evogennutrition where fans can login to ask questions.
ABOUT EVOGEN
Evogen Nutrition, headquartered in Campbell, Californiais a rapidly expanding, healthy lifestyle sports nutrition company that designs and creates a cutting-edge line of nutritional supplements. Founded and lead by world class trainer and bodybuilding show promoter Hany Rambod, Evogen's elite products address all categories of an active lifestyle including muscle building, weight loss, and general fitness through a daily nutritional supplement regimen. The foundation of Evogen's nutritional protocols are based on the world famous FST-7 physique training system invented by Rambod. Evogen Nutrition is sold in over 25 countries worldwide, including Bodybuilding.com, GNC.com, and distributed by Europa Sports. For more information, please visit http://www.EvogenNutrition.com.