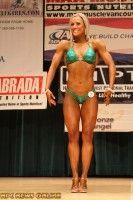 Amber Leon did a little bit of everything growing up.
"I started with ice skating, but that was too cold so I moved on to gymnastics," Leon says. "Then, in middle school and high school pole vaulting, until I tore my ACL so I stopped doing that. Then it was the cheerleading thing from high school into college at San Diego State."
With that background, it only makes sense that she would do a little bit of a few things when she started competing in the NPC – which she did, competing in both figure and fitness last year in her first two contest.
This year, Leon decided to focus on fitness – where she repeated as the Vancouver USA Natural Overall winner two weekends ago.
"This year I'm just going to stick to fitness," Leon says. "I wanted to see where my physique would line up in figure, but my passion is in fitness. It's really so much fun to keep that athleticism. I was a cheerleader for a long time so I'm really big on the performance aspect."
AGE: 28
HEIGHT: 5'4
CONTEST WEIGHT: 120 pounds
CONTEST HISTORY: 2012 Vancouver Naturals, Overall winner; 2011: Vancouver USA Naturals Class B and Overall winner; Emerald Cup 3rd Fitness Tall Class, 4th Figure in 5'4 to 5'5 Class
ROAD TO THE NPC: "I had always done the weight training thing and had been an athlete for as long as I can remember. As soon as I talked to Tanji Johnson and met another girl on the Save Fitness Team, I got involved."
OCCUPATION: Pursing Master's degree as a dietician
PHYSIQUE INFLUENCES/ROLE MODELS: Definitely Tanji Johnson. She is so influential and motivating and helpful. I really like Nicole Wilkins, I think she is an amazing athlete and gorgeous to boot. And IFBB Pro Sherri Vucik, on our Save Fitness Team – she has helped me a lot as far as confidence and with my routine.
BEST BODYPART: Arms. "I would say shoulders but I'm still working on those!"
FAVORITE EXERCISE: Deadlifts. "I love to hate 'em. They are very empowering."
WHAT'S NEXT: "Hoping to compete at a national-level show – probably Team Universe – with hopes of being pro."
3 TO 5 YEAR GOAL: "I hope to be competing in the IFBB, but if that doesn't go as planned then defeintely competing locally and regionally then keep trying to get that pro card!"