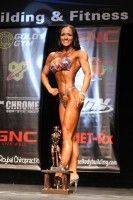 When Ally Baker returned to the after more than a year away, a lot had changed for the former figure competitor. Most notably, the division in which she was competing.
"I was competing in bikini, and I really did enjoy it," says Baker.
At first glance, the results were great – Baker placed second in her class in her first bikini competition before winning her class in her second. But the judges had just one not-so-small critique that Baker couldn't get away from
"I was carrying too much muscle," Baker says. "I had to stop weight training or a while, but it still didn't work – I was still pretty muscular. I did OK at the regional level, but I probably wasn't going to do well at a higher level."
So Baker decided to make the switch back to figure, where she feels her physique is much more at home. The result – first in her class and the Overall title at the Empire Classic on April 28 – is proof she made the right decision. Plus, she's having more fun.
"I like to be able to lift heavy and see my body grow and change in that way," Baker says. "I was kind of bored not being able to lift and running two hours a day."
AGE: 27
HEIGHT: 5'3
CONTEST WEIGHT: 120
LIVES: 
Kennewick, Washington
CONTEST HISTORY: 2005: Seven Feathers Classic 4thClass B (Figure); 2008: Emerald Cup, 3rd Class B (Figure); USAs DNP; Iron Mountain Classic, 2nd Class B (Bikini); Northwest Championships, 1st Class B (Bikini); 2012: Empire Classic, 1st Class B and Overall (Figure)
ATHLETIC BACKGROUND: Soccer, volleyball and softball. "I ran a little track too, but softball was always my main focus."
OCCUPATION: Gym owner and personal trainer/contest prep coach
PHYSIQUE ROLE MODELS/INFLUENCES: "I still like a little harder, a little leaner look. I feel like maybe my physique looks better when I'm like that. So Ava Cowan more recently and Jamie Eason just for being smart, healthy and fit."
PIECE OF EQUIPMENT MY GYM MUST HAVE: Hammer strength shoulder press
FAVORITE MOTIVATIONAL QUOTE/SAYING: "If you fail to plan, you plan to fail."
WHAT'S NEXT: USAs on July 27-28