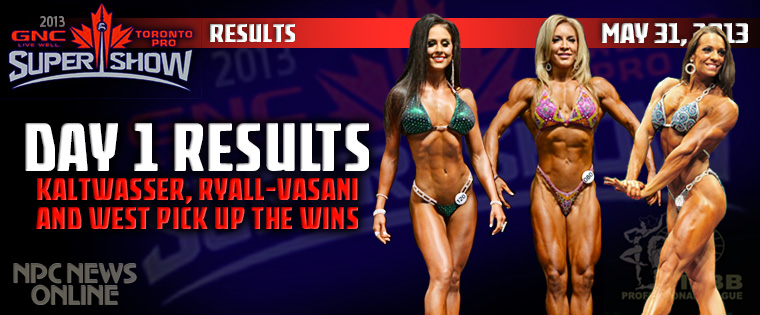 Ashley Kaltwasser, Ryall Graber-Vasani and Toni West and all won their respective divisions during an action-packed first day at the IFBB Toronto Pro Super Show on Friday.
Kaltwasser, competing for the fifth time in the past six weeks, won for the second time this month. Her first win of the month – and of her career – came two weeks ago at the Powerhouse Classic. Kaltwasser, who earned her pro card at last year's NPC Team Universe, has now placed first or second in her last five competitions dating back to the Europa Show of Champions in April.
Jennifer Dawn and Gigi Amurao rounded out the top three.
In Fitness, Ryall Graber-Vasani also won for the second time this year. Her first win of 2013 – and of her career – came at the Arnold Classic Brasil in April. Graber-Vasani has competed four times this season and has finished in the top three each time except once – at the Fitness International to start the year.
Michelle Blank and Nicole Duncan placed second and third, respectively.
Big things were predicted for Toni West when she won the Women's Physique Overall title at the 2012 NPC Nationals, and she hasn't disappointed through her first two contests in the IFBB Professional League. West placed a solid third at the New York Pro in her pro debut last week against a deep and talented lineup. In Toronto, West moved to the front of the pack early and never looked back to notch the first win of her pro career.
Ceanna Kerr placed second, the second consecutive year she has finished as the Toronto Pro runner-up. Mindi O'Brien placed third in her Women's Physique debut. O'Brien last competed in the Fitness division at the 2009 Olympia, where she placed 11th.
Go here to see all of the Toronto Pro Super Show Day 1 photos and final results!
SCORE SHEETS
BIKINI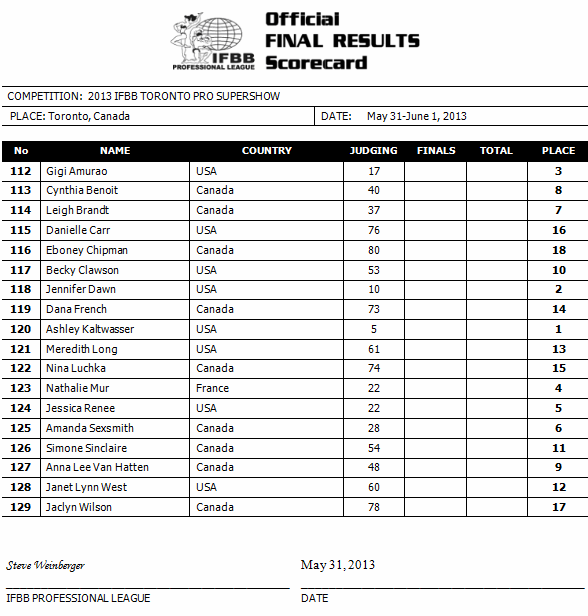 FITNESS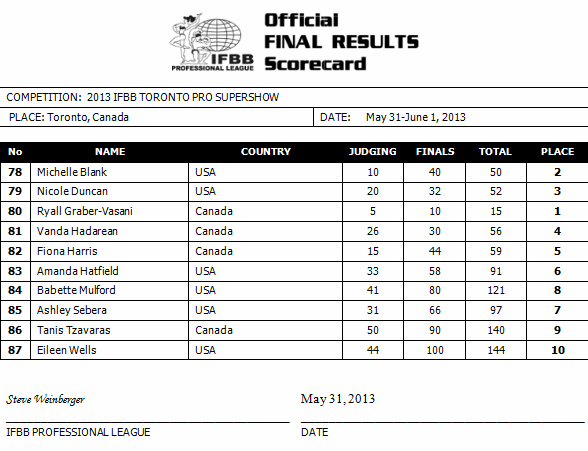 WOMEN'S PHYSIQUE