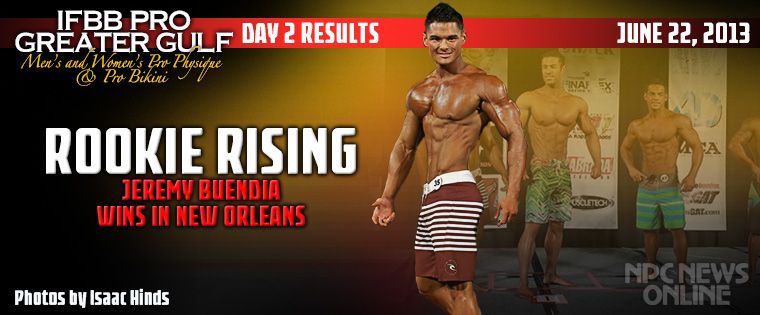 As far as Men's Physique winning streaks go, it doesn't get much better than the one Jeremy Buendia is currently putting together.
The 22-year-old Buendia switched to the relatively new division less than one year ago. Since then he's won all five of his Men's Physique competitions, a streak that now includes the first IFBB win of his career – in his very first professional contest – at the Greater Gulf States in Metairie, Louisiana on Saturday night. Buendia, a former middleweight bodybuilder, was making his pro debut just five weeks after winning the Overall at the NPC Junior USA Championships.
The win didn't come easy, as Buendia and runner-up Alex Carniero were separated by only one point on the judges' score sheets. The second-place finish was the third of Carniero's career and his second of 2013. In the process, Carniero picked up four points in the Olympia Qualification Series, which moved him into second place in the standings.
Stephan Mass (3rd), Jason Poston (4th) and Tyler Anderson (5th) rounded out the top five. Anderson (12 points) currently leads the OQS Standings while Poston (9 points) sits in sole possession of third place.
Go here to see the Greater Gulf States contest photos!
Check out the comments on the top three finishers from Head Judge Sandy Williamson below.
Jeremy Buendia "A great pro debut. Good conditioning, great poser. A great overall look. I think he could tone down the arms just a little bit, to they are just a little bit overpowering. Very good shape."
Alex Carniero "I thought Alex was in really good shpae, his conditioning and everything was good. He's a little narrow but what hurt him the most was his coloring. It was just really off and that washed him out."
Stephan Mass "A good first pro show for Stephan. He has really nice shape. I still thought he could have been a little fuller in his upper body, but it was enough to get him third. Nice symmetry and a nice physique."
SCORESHEET