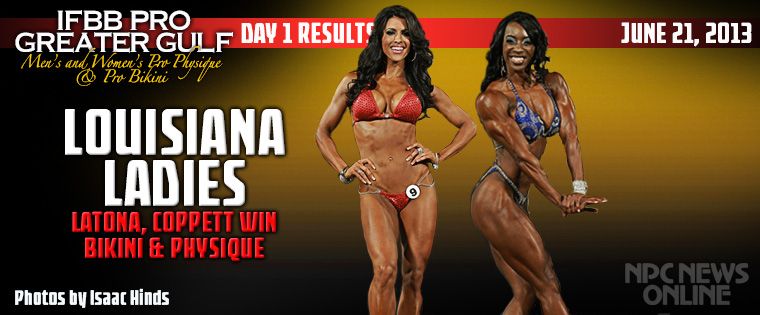 It was an eventful Friday night on the outskirts of New Orleans, as Amanda Latona and Tycie Coppett each won their respective divisions at the 2013 IFBB Greater Gulf States in Metairie, Louisiana.
Latona, making her 2013 competitive debut, picked up where she left off in 2012, when she ended the season with a win at the Sacramento Pro. The win was the eighth of Latona's career, who now has won at least one IFBB contest in each of her four years as a pro. Latona's best year came in 2011, when she took home top honors from the Sacramento Pro, Titans Grand Prix and the MuscleContest Pro Championships. The win was the 10th of her career, giving her the most wins in the history of the Bikini division.
First-year pro Amy Allen placed second for the highest finish of her pro career. In two previous contests Allen placed 16th (MuscleContest Pro) and 8th (Southern California Championships). Liana Hamilton came sprinting out of the gates in her debut by finishing third. Hamilton was just one week removed from earning her pro card by winning the F Class at the NPC Junior Nationals. Only one point separated second and third.
Coppett came oh-so-close to winning the last time she came to Louisiana, placing second to Karina Nascimento at last month's Optimum Classic. This time, Coppett came out on top in very close call with runner-up Mindi O'Brien, as the two were separated by a single point on the judges' score sheets. In the end it was Coppett's combination of shape and detail that helped her claim her first professional win.
O'Brien, competing in the Women's Physique division for the second time after spending the first eight years of her IFBB career in Fitness, moves into a tie for third in the Olympia Qualification Series Standings. O'Brien's first points in the division came by way of her third-place finish at the Toronto Pro earlier this month. Marie, the defending champ, dropped to third.
Go here to see the Greater Gulf States contest photos!
Check out the comments on the top three in each division from Head Judge Sandy Williamson below.
BIKINI
1st Amanda Latona "Gorgeous. Great stage presence. Amanda, her conditioning was good, she didn't come in as conditonied as I've seen her in the past whch is good. I think sometimes in trying to get her glutes down she can come in too lean, but not this time. This was just right for her."
2nd Amy Allen "This was the best condition I've ever seen Amy in. Nice lines. Good stage presence. The overall package much better than I've ever seen. She has always had trouble getting her lower body down, but this was just the right amount of conditioning this time."
3rd Liana Hamilton "Was in better condition here than she was last week. I think she still needs a bit more tightness in her lower body and could use little more muscle fullness in her upper body. A very good pro debut against some really good girls."
WOMEN'S PHYSIQUE
1st Tycie Coppett "Great lines. Small waist, great taper. Beautiful conditioning. Could use a little bit more muscle in her legs. Nice back detail – to me that's where she beat out everybody else. She had really nice separation without being too lean."
2nd Mindi O'Brien "Good conditioning. She is a little wide in the waist in some shots. The right amount of muscle in most places. She could use more detail in her back. She was lean but not as separated as Tycie."
3rd Tamee Maree "Nice symmetry. Needs a little bit more muscle, she looks like she lost some from last year. Looked a little flat here, she needs a little bit more of a fuller look. But beautiful symmetry."
SCORESHEETS
BIKINI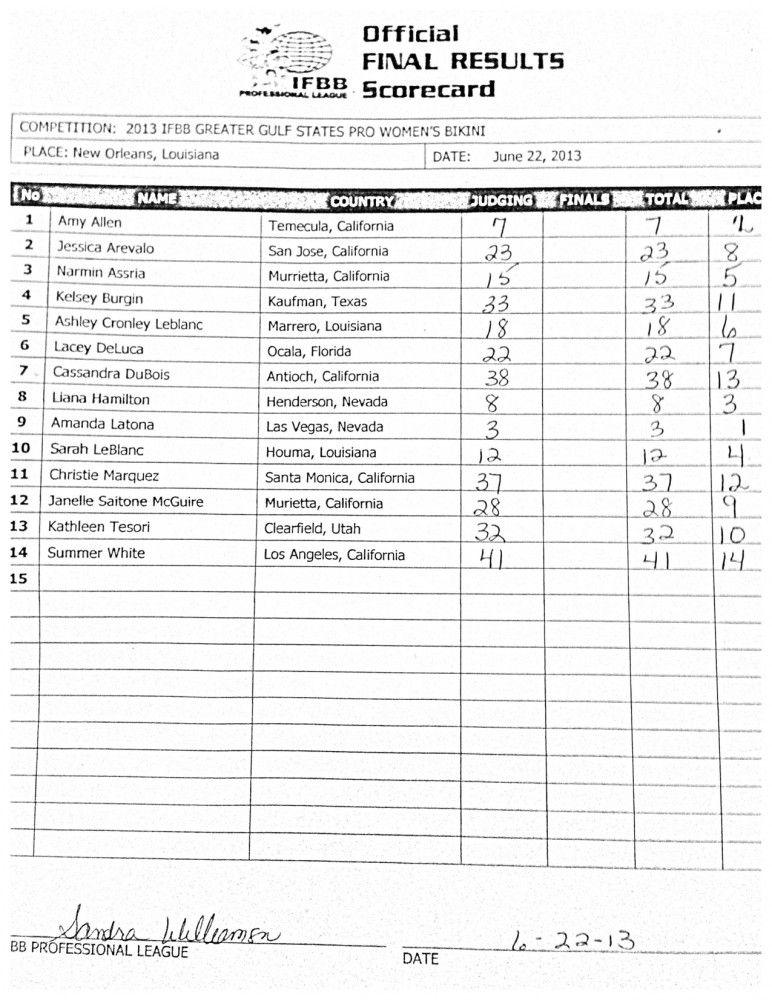 WOMEN'S PHYSIQUE