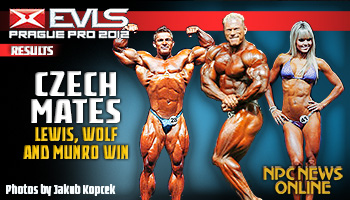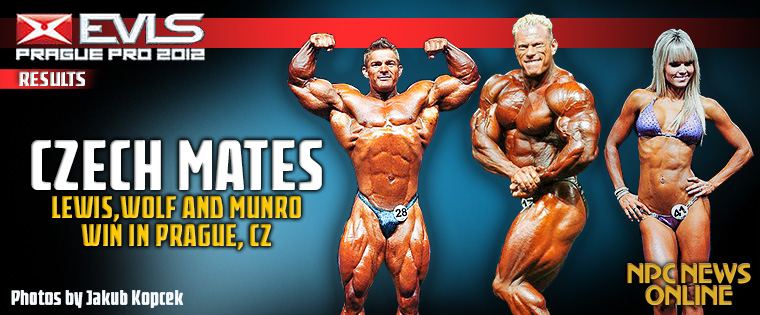 Dennis Wolf, Flex Lewis and Justine Munro all won their respective divisions at the 2012 IFBB EVL Prague Pro, as the IFBB returned to the Czech Republic for the first time in 14 years.
MEN'S BODYBUILDING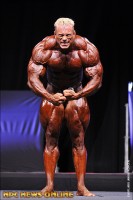 Dennis Wolf ended Shawn Rhoden's tear through the IFBB Pro League on Saturday, handing Rhoden his first loss – outside of his third-place at the Olympia – in his past five contests. With two runner-up placings already this year – to Branch Warren at the Arnold Classic and to Rhoden at the Arnold Classic Europe – Wolf ended his string of close calls and won his first contest since the 2011 Australia Grand Prix. Surprisingly, the win was only the third of Wolf's seven-year pro career. Wolf's first win came at the 2007 Keystone Classic.
Rhoden had won four of his previous five contests, a streak that started at the Tampa Pro on August 11. He came to Prague with most believing the table was set for the first three-contest win streak of his career, considering he had handled most of the same lineup with apparent ease in each of past two weekends in Spain and Britain.
But Rhoden showed his first signs of wear and tear – which should come as no surprise considering he's had to hold his conditioning nearly three months – and it was enough for Wolf to win by the narrowest of margins. The final scorecards had Wolf earning a two-point win, winning both rounds by a single point. With the win, Wolf earns an automatic qualification to the 2013 Olympia.
Johnnie Jackson finished third to earn earned his second top-three finish this season and the 14th of his career. Ed Nunn finished fourth while Toney Freeman, competing in his seventh contest in the past 12 weeks, placed fifth.
See all of the Men's Bodybuilding photos here!
212 MEN'S BODYBUILDING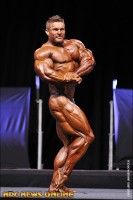 Flex Lewis continued to solidify his standing at the top of the 212 division, winning for the third time in four weeks against another quality lineup. Lewis started his win streak at the 212 Showdown, then picked up where he left off at last weekend's British Grand Prix. His win in Prague came against runner-up Sami Al Haddad and Eduardo Correa.
Al Haddad, the 2011 Amateur Olympia Overall winner, has now placed second in all three of his professional contests – twice to Lewis and once to three-time and then-reigning 202 Showdown winner Kevin English at the New York Pro in May. By consistently placing ahead of 212 standouts like Jose Raymond (last week and in New York) and Correa, Al Haddad has clearly established himself as one of the top competitors in the division in his rookie year.
William Bonac and Khalid Almohsinawi placed fourth and fifth, respectively.
See all of the 212 Men's Bodybuilding photos here!

BIKINI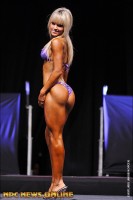 Even before the Prague Pro, Canada's Justine Munro had turned in a season to remember. In seven contests, Munro – a second-year pro – had racked up her first professional win (at the St. Louis Pro in September) and three second-place finishes. All of which made her the front-runner in Europe. She didn't disappoint, earning straight firsts on the judge's scorecards to win for the second time in her career.
The rest of the top five was an All-European list – Finland's Anna Virmaoki (2nd), Hungary's Noeimi Olah (3rd), Slovakia's Nikola Weiterova (4th) and the United Kingdom's Michelle Brannan (5th).
See all of the Bikini photos here!
SCORE SHEETS
MEN'S BODYBUILDING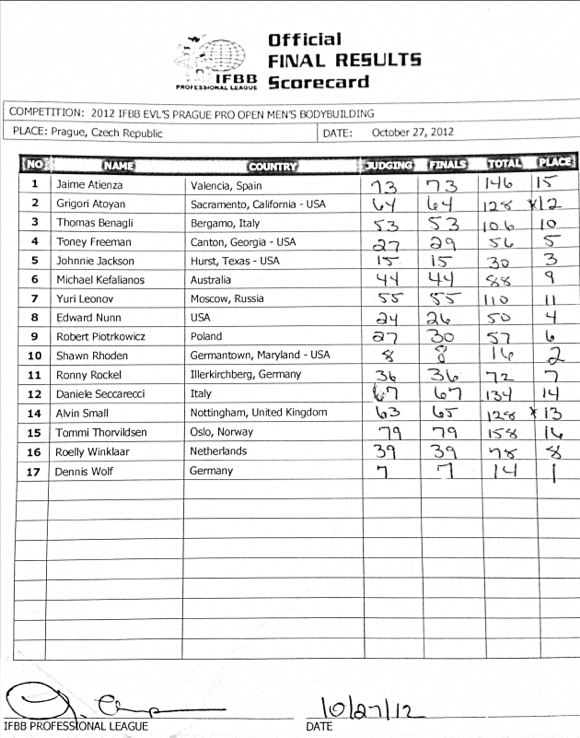 212 MEN'S BODYBUILDING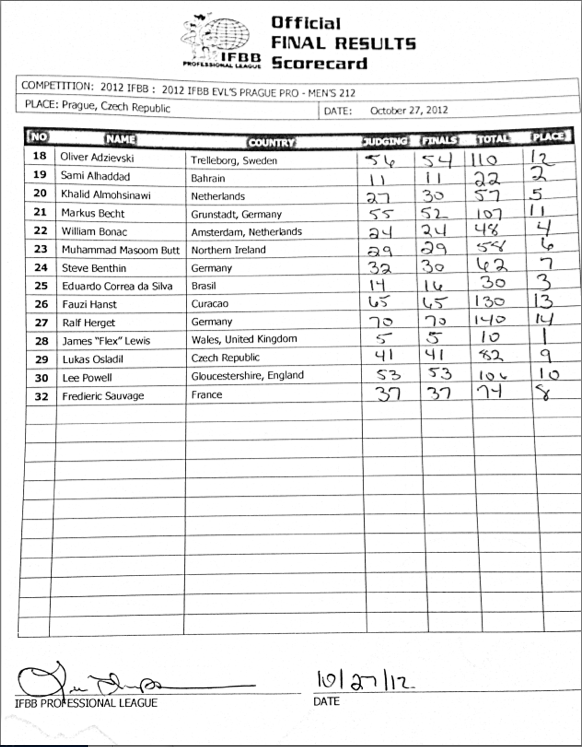 BIKINI