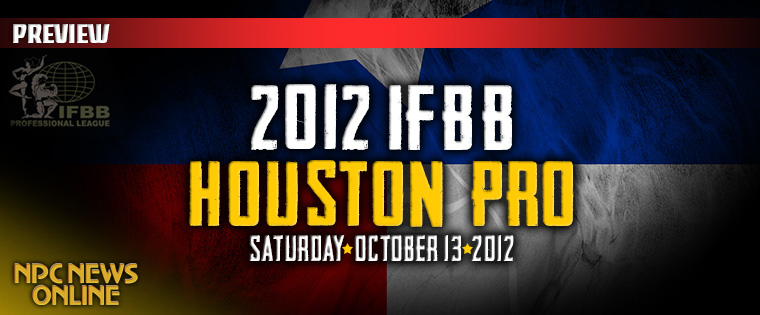 The IFBB heads to Houston this Saturday for the 2012 Houston Pro Figure, Bikini, Men's and Women's Physique and Wheelchair Championships, with nearly 80 athletes ready to compete in the five divisions.
FIGURE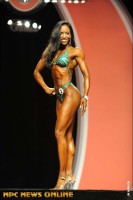 In Figure, Teresa Anthony leads the way after her sixth-place finish at the Figure Olympia, her second consecutive top-five finish. She'll have to contend with one of the hottest rookies in the IFBB in Candace Lewis, who placed one spot behind Anthony in Las Vegas two weeks ago. Lewis – who earned her pro card at the 2011 NPC Junior Nationals – has already piled up two wins in only four professional contests.

BIKINI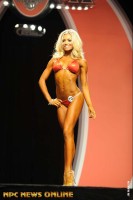 Dianna Dahlgren headlines a lineup of 24 competitors two weeks removed from placing fourth at the Bikini Olympia. She enters as the precontest favorite to win her second contest of the year. Justine Munro, also in the hunt for win No. 2 of the season, should also be in the mix.
Three promising rookies fresh off winning Overall titles – Team Universe winner Ashley Kaltwasser, USA winner Kelsie Bergin and North Americans winner Sabrina Nicole – make their pro debuts. Rookie Pollianna Moss, who won her pro card at the Junior USAs in April, already has a professional win under her belt (Toronto Pro).
MEN'S PHYSIQUE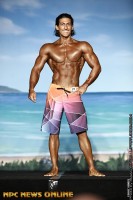 Sadik Hadzovic, fresh off his first career win at the Valenti Cup last month, leads the way in Men's Physique. Hadzovic has finished in the top two in all three of his IFBB outings since earning his pro card by winning the Overall at the NPC Junior USAs in April. Two of the most recent NPC Overall winners will make their pro debuts. Both Trent Calavan (NPC USA Overall winner) and Anton Antipov (IFBB North Americans Overall winner) will head to Houston to test the IFBB waters in one of the largest Men's Physique lineups of the year.

WOMEN'S PHYSIQUE
It's a small lineup, led by Mikala Soto, who enters after back-to-back runner-up finishes at the Chicago Pro and the Tampa Pro Bodybuilding Weekly Championships. USA Overall winner Samantha Hill makes her pro debut.
WHEELCHAIR BODYBUILDING
In the Wheelchair division, 2011 Houston Pro winner Harold Kelley returns to defend his title. He'll have to deal with a loaded lineup that includes Ludovic Marchand and Nick Scott.
COMPETITOR LISTS
FIGURE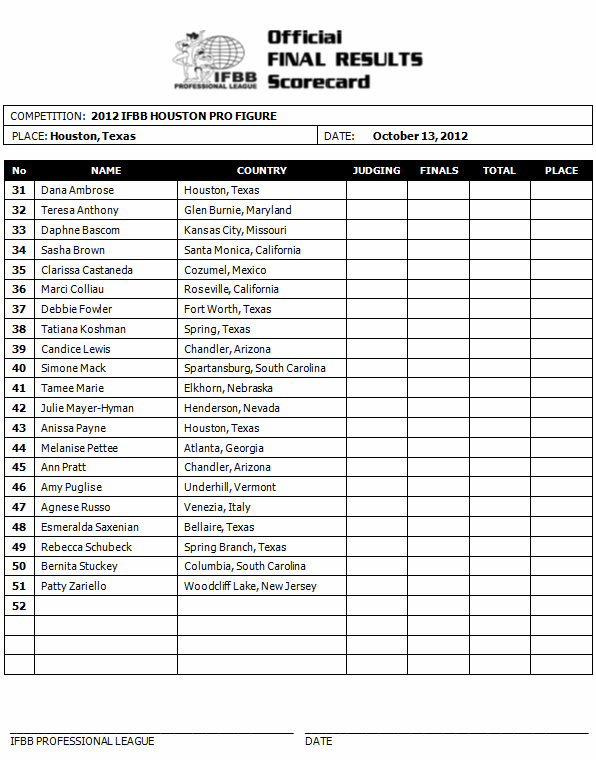 BIKINI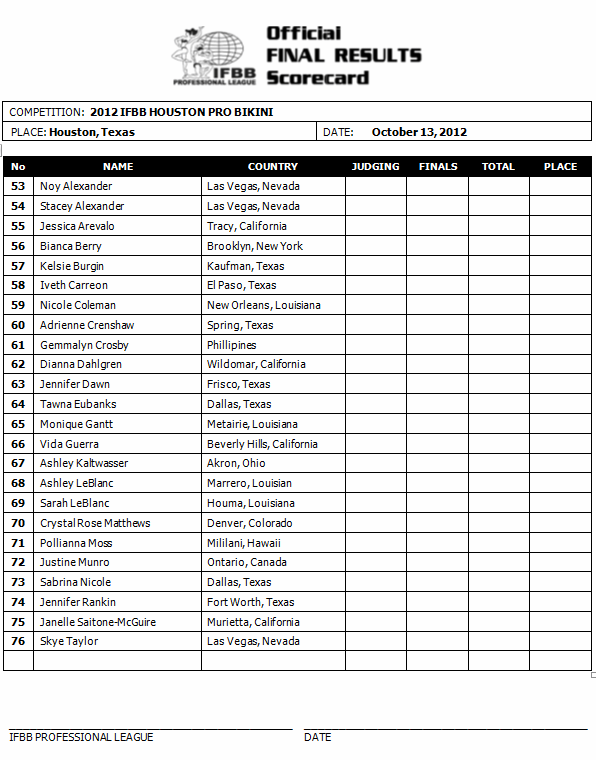 MEN'S PHYSIQUE
WOMEN'S PHYSIQUE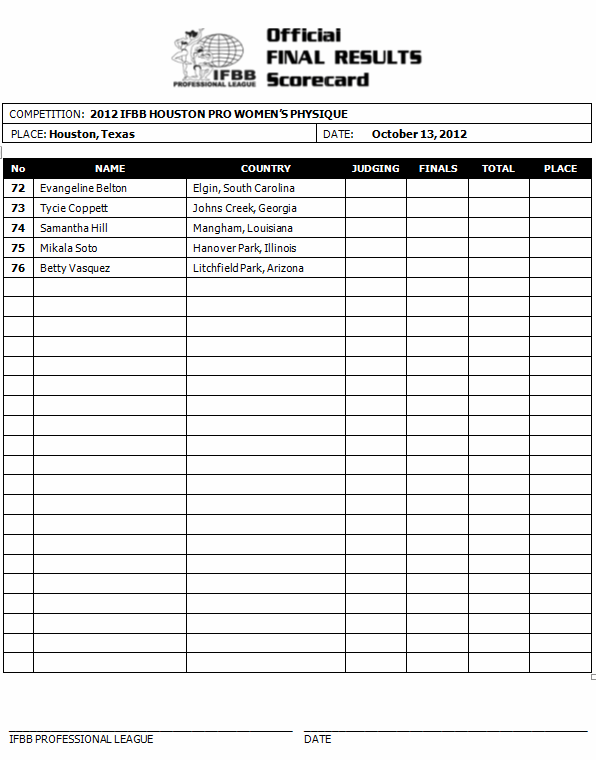 WHEELCHAIR BODYBUILDING