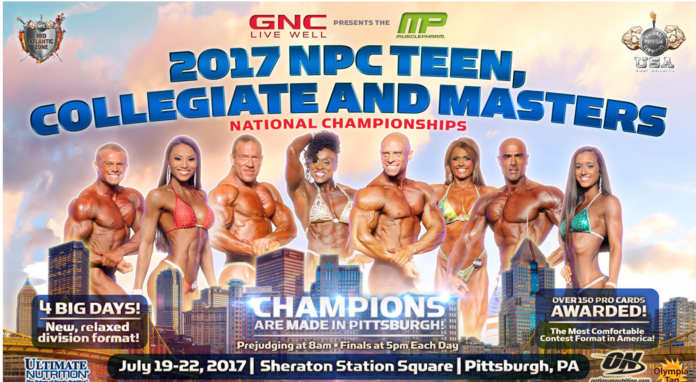 The NPC Teen Collegiate Masters Nationals contest is growing by leaps and bounds. This year there are over 1000 competitors stepping on stage. NPC News Online Would like to wish good luck to all the competitors. If you need additional information on the contest please Click Here.
ONLINE ENTRIES CLOSE JULY 14 at 6pm Eastern Time.  A LATE FEE of $225 is added on all entries submitted online after July 6 at 12-Noon Eastern Time.
TAKE NOTE OF THESE DATES and BROWSE ALL TABS ON THIS PAGE FOR INFO. Contact GARY by Text or Email with Questions:  412-377-1438 or gary@garyudit.com
FOR CHECK-IN TIMES, CLICK THE CHECK-IN TAB.  THERE IS ABSOLUTELY NO CHECK-IN ALLOWED ON FRIDAY OR SATURDAY!
You may add classes or register at athlete check-in, cash only.
NPC NEWS ONLINE WILL HAVE FULL COVERAGE OF EVENT.
CHECK OUT LAST YEAR'S CONTEST GALLERY