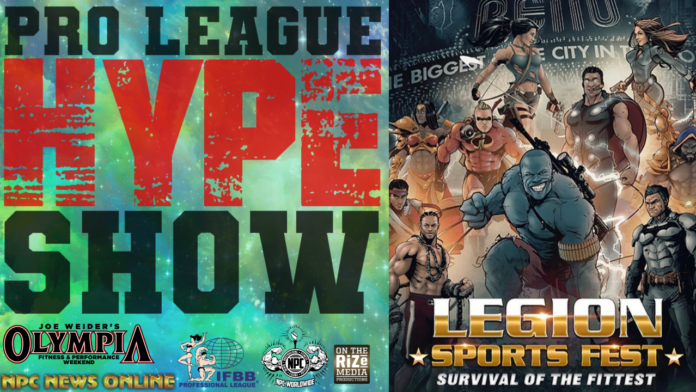 The Pro League HYPE Show is proud to introduce the IFBB Professional League Legion Sports Festival, a multi-sport fitness expo taking place on 22nd to 24th October at the Reno-Sparks Convention Center. The expo is run by IFBB Professional League promoter Chris Minnes, who continuously gives back to athletes by reinvesting into the event which has gained so much popularity with both athletes and fitness fanatics in the country.
The Legion Sports Fest boasts a whopping 2500+ athletes attending this event over the three-day weekend. Bodybuilding will be headlining the event with IFBB Professional League Open Bodybuilding, IFBB Professional League Masters and NPC Bodybuilding shows as the center for the surrounding sports in attendance, which range from Strongman to Powerlifting and more! The expo will also be host to posing seminars, brands and other amazing vendors in support of this venture.
You will not want to miss this event; if you are a competitor then check out the registration and try get yourself that Superhero trophy!
Information on the live stream package can be found at: Legion Sports Fest – Center Podium, legionsportsfest.com
Tickets and athlete registration can also be done online.
Brought to you by On The RiZe Media Host Giles Thomas.
@npcnewsonlineofficialpage @ifbb_pro_league @npcworldwideofficial @npcnewstv @npcfitbody2 @npcwellness @npcworldwidewellness @ifbbproleaguewellness @t_manion @chrisminnes @centerpodium @legionsportsfest #nationalphysiquecommittee #ifbbprofessionalleague #npcbodybuilding #npcfitness #npcmensphysique #npcclassicphysique #npcwomensphysique #npcfigure #npcbikini #npcwellness #ifbbprobodybuilding #ifbbpro212 #ifbbproclassicphysique #ifbbprofitness #ifbbpromensphysique #ifbbprofigure #ifbbprowomensphysique #ifbbproleaguewellness #legionsportsfest