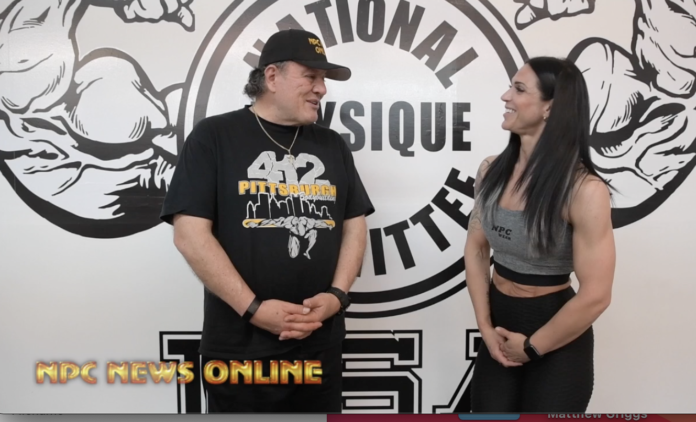 Watch #NPC #Pittsburgh Kristen Rusiewicz @ruefit_37 who is making her @npcwellness debut interviewed for her #roadtothenpcpittsburgh @npcifbbpropittsburgh 2021 with J.M. Manion @aroundthenpc_jm @npcphotogymofficial #exclusively for @npcnewsonlineofficialpage @npcnewstv with 3 weeks until the contest!
Kristen talks about how she competed in one #npcfigure contest in 2019 and then the #NPC announced it starting @npcwellness and she felt this was the division for her so she is making her rookie foray into it. She also reveals some more about herself and how the sport has helped her. This was Kristen's very first interview! You can watch the full interview, her posing and her training on npcnewsonline.com and our YouTube Channel.
The 2021 #NPCPittsburgh Championships is back along with the #IFBBPittsburghPro @npcifbbpropittsburgh on April 30-May 1 and the contest will be held at it's normal location, Soldiers and Sailors Memorial Hall in Pittsburgh! @soldiersandsailorshall This contest is promoted by NPC and @ifbb_pro_league President Jim Manion.
@npcfitbody @npcworldwideofficial @npcwellness @npcworldwidewellness @ifbbproleaguewellness @t_manion @aroundthenpc_jm @garyudit @frank_sepe @npcpennsylvania @axeandsledge @limitless @olympiatanning @fitbodyfusion @bodybyo @blackstonelabs_official @teamatlasmtl @redcon1 @theprophysiques @teamfflex @mrolympiallc #nationalphysiquecommittee #ifbbprofessionalleague #npcbodybuilding #npcfitness #npcmensphysique #npcclassicphysique #npcwomensphysique #npcfigure #npcbikini #npcwellness #ifbbproclassicphysique #ifbbpromensphysique #ifbbprofigure #ifbbprobikini #ifbbproleaguewellness #npcactivewear #pittsburgh