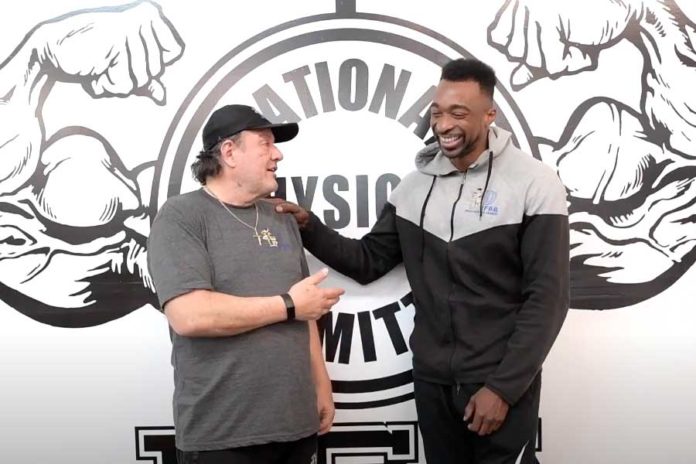 He's back . . . we think? Just kidding. It was #IFBBProMensPhysique Neal Cash @ccash15_ifbbpro time to be in front of the #npclogowall @npcphotogymofficial so he could film his 2021 #roadtotheifbbpittsburghpro @npcifbbpropittsburgh and be interviewed by J.M. Manion @aroundthenpc_jm #exclusively for @npcnewsonlineofficialpage @npcnewstv 9 days before he hits the #IFBBPittsburghPro stage.
Neal and J.M. discussed Neal's confidence for this year's contest along with what other contest he plans to compete in this season. They also touch on his training business, how he trains legs and if he could hang with 1 of the @ifbbproleaguewellness training legs and his thoughts on the #wellness division in general. J.M. asks Neal how hooked he now is about @gameofthrones since he finally started watching it a few weeks ago. Neal also handicaps his predictions to win the #IFBBPittsburghPro Wellness, Figure and Bikini and a lot of other subjects along the way!
Hear about all that and much more in this interview on npcnewsonline.com and our You Tube Channel.
The 2021 #NPCPittsburgh Championships is back along with the #IFBBPittsburghPro @npcifbbpropittsburgh on April 30-May 1 and the contest will be held at it's normal location, Soldiers and Sailors Memorial Hall in Pittsburgh! @soldiersandsailorshall This contest is promoted by NPC and @ifbb_pro_league President Jim Manion.
@npcfitbody @npcworldwideofficial @npcwellness @npcworldwidewellness @ifbbproleaguewellness @t_manion @garyudit @npcpennsylvania @axeandsledge @limitless @olympiatanning @fitbodyfusion @bodybyo @blackstonelabs_official @teamatlasmtl @redcon1 @theprophysiques @teamfflex @mrolympiallc @calysta_ifbbpro @raymontedmonds @alexandriaross_ @gameofthrones @andybartolovich @janetlayug @yarishna @ashleykfit @laurendannenmiller @ashlyn_ifbbpro @ifbbheatherdees @drsunnyandrews #nationalphysiquecommittee #ifbbprofessionalleague #npcbodybuilding #npcfitness #npcmensphysique #npcclassicphysique #npcwomensphysique #npcfigure #npcbikini #npcwellness #ifbbproclassicphysique #ifbbpromensphysique #ifbbprofigure #ifbbprobikini #ifbbproleaguewellness #npcactivewear #olympiaqualifier