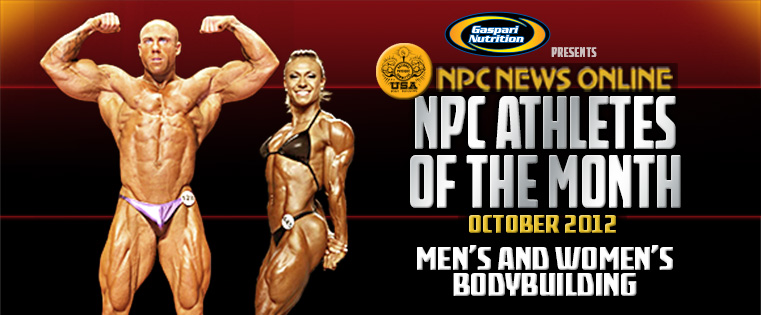 Michael Vanleeuwen and Kristine Duba have been named the NPC Athletes of the Month in Men's and Women's Bodybuilding for the month of October.
MEN'S BODYBUILDING: MICHAEL VANLEEUWEN
October Accomplishment: Dexter Jackson Memphis Classic & Music City Muscle Overall Winner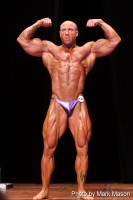 Age 32
Height 5'9
Weight 199
Residence Southhaven Mississippi
Contest History/Highlights 2012: Dexter Jackson Memphis Classic 1st Heavyweight and Overall; Music City Championships 1st Heavyweight and Overall; 2002: Battle On the Bluff 2nd Heavyweight; 2001: Big River 1st LIght Heavyweight and Overall; 200: Big River 3rd Light Heavyweight; 1999: Big River 1st Novice Middleweight and Overall, 1st Teen Division
Go here for more photos of Michael Vanleenuwen!
STARTING OUT "My half-brother was a four-time Mr. Florida, when I was younger I always looked up to him. He kind of got me started. That and when my dad got me weights for Christmas when I was like 12. I went to a bodybuilding show to watch one time and saw a guy who trained at one of our local gyms here – I said  that's where I need to go. That's when things changed and started getting really serious."
MEETING THE CHALLENGE "It's just you against the weights. Who's gonna win the day – you or the weights? It's a challenge that I look forward to every day. It's a good outlet. If something happens to you that day and you're not in a good mood, you can always lift weights and at the end of the session you always feel good, no matter what else happened. I know there is always somebody out there training harder than me to win a show, and that's what motivates me to train that much harder." 
IN THE BLOOD "I hadn't been to a show since I last competed back in 2002, but my boss at Edge Fitness was like, 'Let's just go and see what's up'. So being there and seeing the guys on stage having a blast, I missed that. I really missed that. I never fell out of bodybuilding, I was always at the gym and kept on working out, I just stopped competing. And then my boss, my dad and my girlfriend all were like, 'You need to do it." The more I started thinking about it, the more I really wanted to get back into it. Once it's in your blood it's hard to get rid of. Now it's back and I'm in love with it again."
BLACKOUT "Winning that first contest after taking so much time off was definitely a surprise. I never take my competition lightly, but all my friends were saying 'Man, you got this' – of course that's what friends are supposed to do! But the more I looked in the mirror getting close to show time I was like, 'Man this could really happen'. On stage, all that emotion, all their emotion just went right through me. All I remember really is hitting three or four poses and then after that I kind of blacked out. I don't really recall what all happened."
NEVER TOO LATE "The goal this year is to do use Hub City as a warmup to get the nerves off a little bit, then do well at the Southern Classic. If I get qualified [for the national level], take a full year off and try to put on some more size then go for the Junior Nationals. At this point, I really want to get a pro card. Being 32 years old I wish I was younger and had stuck with it and had a better opportunity to make a living as a professional bodybuilder.  I know this is a young man's sport, but still my ultimate goal is my pro card."
Go to page 2 for Rene Marven's profile!