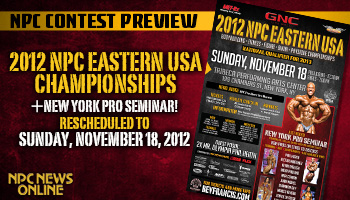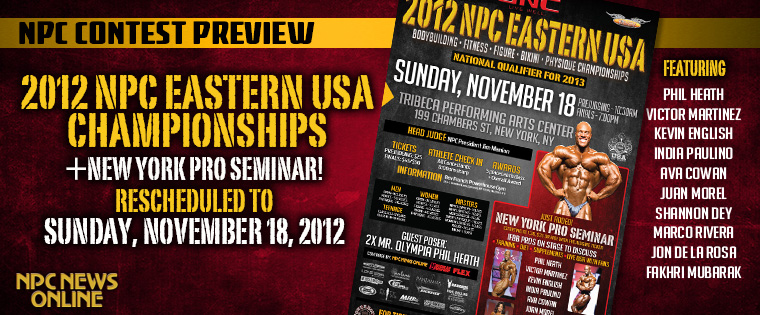 Due to recent events, the NPC Eastern USA Championships have been rescheduled to November 18, 2012. The contest was originally slated to be held this Saturday.
Here is the official release from contest promoters Bev Francis and Steve Weinberger:


Despite our best efforts, we are unable to hold the Eastern USA Championships on November 3. But the SHOW WILL GO ON. The event has been RESCHEDULED for SUNDAY, NOVEMBER 18 at the Tribecca Perfoming Arts Center (same location).
For details keep checking www.bevfrancis.com
Downtown New York City has suffered unprecedented damage from Hurricane Sandy and the Tribecca Performing Arts Center is closed for repairs. The damaged venue along with the persistent transportation shut downs and delays makes it unfeasible to hold a contest on November 3 that would meet the high standard of the Eastern USA.
So on November 18, we will deliver top-notch venue, extraordinary staff, expert judging, and unrivaled competition you've come to expect the NPC New York. Along with something more!
Rescheduling the contest has allowed us to add a one-time special event: THE NEW YORK PRO SEMINAR featuring Mr. Olympia Phil Heath. Immediately following the Eastern USA pre-judging, Heath will be on stage to discuss training, nutrition, supplements, and even answer questions from the audience!
If that isn't enough, joining Mr. Olympia on stage will be Pro Figure star Ava Cowan, Bikini Champion India Paulino, 3x Olympia 202 Champion Kevin English, Team Bombshell's Shannon Dey, and IFBB Pros Juan Morel, Marco Rivera, Jon De La Rosa, & more!
We appreciate your understanding and continued support and we hope to see you on November 18!
STEVE & BEV