It's the busiest weekend of the year to date in the NPC, as a whopping 11 contests will be held across the country. In addition to some of the top amateur athletes in the country, several IFBB Pros will be making appearances as the IFBB Pro League season gets ready to heat up again. Good luck to all the NPC athletes and promoters this weekend!
TEXAS SHREDDER CLASSIC: AUSTIN, TEXAS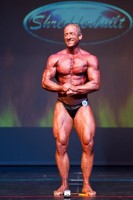 The 15th Annual Texas Shredder Classic will be the largest drug-tested bodybuilding show in Texas history, with well over 300 entries already in! IFBB Pro Dave "The Texas Shredder" Goodin hosts the contest in Austin, Texas. Nick "The Beast" Scott (IFBB Pro) will be the featured guest poser and promises an even better routine than the one which brought 1500 fans to their feet in a standing ovation last year.
The competition looks fierce this year with 2011 Texas State Natural overall champion, Mark Domme coming to add the Shredder Classic Championship Ring to his collection. In Women's Bodybuilding look for a tough battle between 2011 Shredder champ, Carolyn Brinkley and Texas State Naturals champ, Venessa Barnard. 2011 Black Gold champion, Stacie Hanson is one the favorites for Women's Physique, while 2011 TSN champ Stan Newton appears to be the front runner in the Men's Physique division. In Bikini, Janessa Mitchell (TSN Bikini B champ) will surely be pushed by Shinda Obey and Austin's Leslie Therell, who both made solid finishes at the TSN in November. TSN Masters Bikini champ, Karin Traber is in great shape and wants to make it two titles in a row. The Figure division is wide open as there are no returning Shredder or TSN champions, but watch out for Austin's Laura Ross, who finished a very strong 3rd place in last year's show.
The returning natural athletes are an outstanding group, but you never know who is going to step on stage at the Texas Shredder Classic and come out a champion. Two very notable names who have won championships at the Shredder in the past are IFBB Pro Alicia Marie in '04, and fitness super-model, Jamie Eason in '05.
Details on the Texas Shredder Classic can be found here!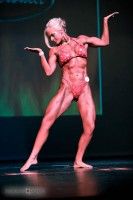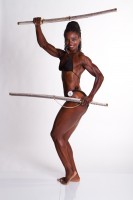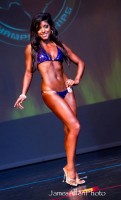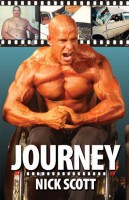 PANHANDLE SHOWDOWN: PENSACOLA, FLORIDA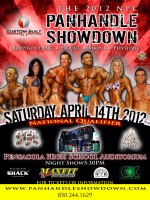 The 6th annual NPC Panhandle Showdown hits the stage Saturday, with prejudging kicking off at 9:30am and the night show starting at 5:30pm. IFBB Pros Cedric McMillan and Jennifer Scarpetta are the featured guest posers at the event. The Panhandle Showdown has grown from a small regional show to a top National Qualifier featuring over 150 contestants (230 with crossovers).
"From signature rings, specially commissioned trophies, to high-end gift bags provided by sponsors, all of our contestants leave with something to treasure," Panhandle Showdown Promoter Russ Measy says. "In the short time our show has been around, we've had a few IFBB pros start their journey from our stage. Andrea Watson shot to stardom in 2009, gracing our stage as a first time competitor April 7th and earned her pro card at the Jr USA's May 23rd. Zero to pro in 46 days – WOW! Gennifer Strobo started as our very first trophy girl in 2007, caught the figure bug and earned her pro card in 2009."
Go here more info on the Panhandle showdown!
NORTHERN COLORADO CHAMPIONSHIPS: BOULDER, COLORADO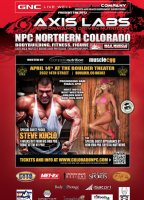 The NPC Axis Labs Northern Colorado Championships is an NPC national qualifier for the first year ever! The contest was Mr. Olympia Phil Heath's very first in 2003. With over 200 competitors and Steve Kuclo guest posing a month out from his Pro debut in NY, you won't want to miss it if you're in the area!
AMATEUR GRAND PRIX: LOS ANGELES, CALIFORNIA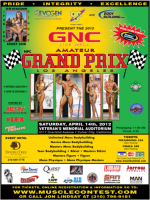 Held in conjunction with the IFBB Pro Grand Prix Men's and Women's Physique Championships, the NPC Amateur Grand Prix is expecting a huge turnout this Saturday. With over 300 competitors already slated to take the stage, it will be one of the largest regional contests ever in Southern California.
JACKIE'S PLACE ALASKA STATE CHAMPIONSHIPS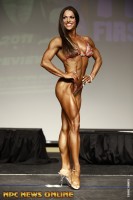 A guest performance by the always-entertaining IFBB Fitness Pro Oskana Grishina highlights the event. Grishina is coming off a successful start to the 2012 season, one that included the first pro win of her career at the St. Louis Pro. The contest will be held at the Wendy Williamson Auditorium in Anchorage, Alaska.
In other NPC action:
– Natural Indiana – Indianapolis, Indiana
– Fresno Classic – Fresno California
– Atlanta Championships – Atlanta Georgia
– A-Nations Championships – Albany, NY
– North Carolina State Championships – High Point, NC
– Diamond Nationals – Boca Raton, Florida