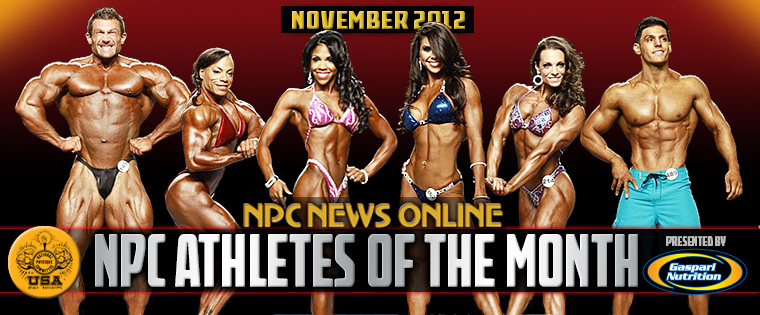 The National Physique Committee and Gaspari Nutrition have announced six competitors as the November Athletes of the Month – Brian Yersky, Juanita Blaino, Angela Skeels, Nicole Sims, Toni West and Vincent Fiore. All six of the winners won Overall titles at the NPC Nationals in Atlanta, Georgia last November.  
Each month, NPC President Jim Manion selects the Athletes of the based on in-person analysis and on the information provided by contest promoters across the country and featured in the NPC News Online Contest Roundups.
Go here for more info and photos featuring the November NPC Athletes of the month! 
About the November Athletes of the Month:
– Men's Bodybuilding: Brian Yersky, 30, has been competing on the national-level stage since 2006, placing in the top five seven times. The 2007 Collegiate National Super Heavyweight winner, Yersky competed in six pro qualifiers before earning his IFBB Pro card at the Nationals. 
– Women's Bodybuilding: Juanita Blaino, 43, took a 16-year break from competition before returning in 2009. A patrolwoman with the County Sheriff's Department, Blaino finished second in the Heavyweights at the 2010 Nationals before winning the class and Overall last November
– Figure: A mother of three, Nicole Sims won her class and the Overall at the Nationals. The win was a dramatic from Sims' first attempt at earning a pro card, when she failed to place at the 2011 USAs.
– Bikini: Angela Skeels didn't place at last summer's USA Championships, but that didn't little to discourage her. Skeels rebounded in a big way at the Nationals by winning her class and the Overall. 
– Men's Physique: A former college lacrosse player at Oneonta State in New York, 24-year-old Vincent Fiore proved to be a quick study in the Men's Physique Division. Fiore earned his IFBB Pro card by in just his fourth competition. 
– Women's Physique:  Toni West tried her hand in both bodybuilding and figure before moving over to Women's Physique this year. West, 33, competed in just one previous Physique contest before winning her class and the Overall at Nationals.