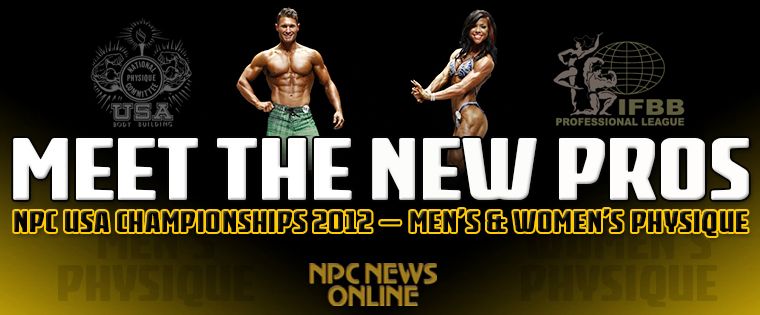 Check out all of the new pros in Men's and Women's Physique from the NPC USA Bodybuilding, Figure, Bikini and Physique Championships, held on July 27-28 in Las Vegas, Nevada. NPC Judge Sandy Williamson comments on each of the new IFBB pros.
Miss out on any NPC USA coverage? See it all!
– Contest Galleries and Final Results
– Exclusive! Official Score Sheets
– Backstage and Paparazzi Photo Blowout
– Video: Highlights and Celebrity Interviews
– Meet the New IFBB Pros: Figure & Bikini

Want photos from the NPC USA Championships? Go to http://photos.liftstudios.com for official NPC Photo orders!
MEN'S PHYSIQUE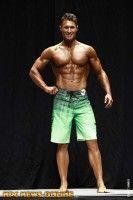 TRENT CALAVAN – Overall and Class D Winner
Age 30
Height 5'11
Weight 190
Residence Pflugerville, Texas
Contest history/highlights 2012: Pittsburgh Championships 1st Class D; 2011: Branch Warren 1st Tall Class; USA Championships 13th Tall Class; Nationals Tall Class DNP
Judge's comments "Nice look, good lines, should. Since Pittsburgh he definitely tightened up a little bit and brought his waistline in to give him that finished look."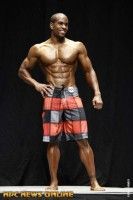 CHRIS MERCADEL – Class B Winner
Age 30
Height 5'8
Weight 180
Residence New Orleans, LA
Contest history/highlights 2012: Red Stick Classic 1st Class A and Overall; Greater Gulf States 1st Class A; New Orleans Championships 1st Class A; 2011: Red Stick Classic 1st (One class); Louisiana State Championships 1st Short Class and Overall
Judge's comments "Nice muscularity, just needs to work on improving his stage presence as he moves into the pros."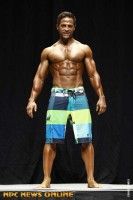 ROBERT GROTE – Class B 2nd
Age 26
Height 5'8
Weight 180
Residence Vandalia, Ohio
Contest history/highlights 2012: Julie Palmer Ultimate Showdown 1st and Overall; 2011: Mike Francois Classic 6th Light Heavyweight (Bodybuilding0; Julie Palmer Ultimate Showdown 4th Light Heavyweight (Bodybuilding); 2010: Cincinnati Championships 2nd Middleweight, 1st Novice Middleweight (Bodybuilding); Monster Mash 6th Light Heavyweight (Bodybuilding)
Judge's comments "Great muscularity. Conditioning was right on. He could do well in the pros."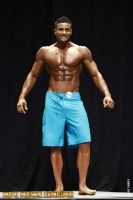 ADAM BANKSTON – Class C Winner
Age 32
Height 5'9
Weight 185
Residence Chico, California
Contest history/highlights 2012: Governor's Cup 4th Class B; Contra Costa 3rd Class B
Judge's comments "Positive look. Good overall level of muscularity, but needs to watch the size of his delts and how lean he comes in."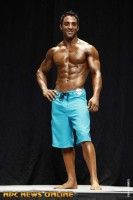 SHANE ESLAHI – Class C 2nd
Age 25
Height 5'8 1/2
Weight 175
Residence Rogers Arkansas
Contest history/highlights 2012: Kansas City Muscle Mayhem 1st Class A; Team Universe 7th Class A; 2011: Arkansas State Championships 2nd; Nationals 15th Class B
Judge's comments "Great look on stage, good muscularity, conditioning was right on. Could accentuate his v-taper a little more."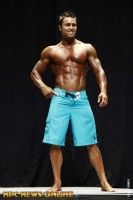 JASON POSTON – Class D 2nd
Age 30
Height 5'10 1/2
Weight 190
Residence Dallas, Texas
Contest history/highlights 2012: Ronnie Coleman Classic 1st Class C and Overall; Jr. Nationals 8th Class C; Los Angeles Championships 4th Class C; 2011: Oklahoma City Grand Prix 5th Class B
Judge's comments "Great overall look. Since the Jr. Nationals his conditioning was a little bit better, but still may need to be tighter in the abdominal area for the pro level."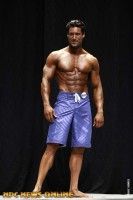 STEVE MOUSHARBASH – Class E Winner
Age 28
Height 6'0
Weight 173
Residence Jacksonville,Florida
Contest history/highlights 2012: CJ's Sunshine Classic 1st Tall Class; Jr. USA 6th Tall Class; Jr. Nationals 7th Class C; 2011: Jr. USA 6th Tall Class; Dexter Jackson Classic 1st and Overall; Nationals 9th Tall Class
Judge's comments "Has great stage presence. Great abs, nice muscularity, conditioning was right on. As the year went on he came in a little bit crisper and conditioned each time."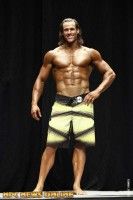 KARL BIERMANN – Class F Winner
Age 28
Height 6'1
Weight 205
Residence Denver, Colorado
Contest history/highlights 2012: Jr. USA 8th Class C; 2011: Mile High Classic 1st and Overall; IFBB North Americans 3rd Class C
Judge's comments "Good overall look on stage. Needs to bring his waist in a little bit – he can look a little wide there in some poses."
CORY LAGASSE – Class F 2nd
Age 24
Height 6'4
Weight 215
Residence Waterbury, Connecticut
Contest history/highlights 2012: Europa Battle of Champions 3rd Class B; Atlantic States 2nd Class D; Team Universe 6th Class C; 2011 Brooklyn Grand Prix 1st; Nationals 7th Class C
Judge's comments Coming off a 6th place finish at Team U, his conditioning was better here. Needs to work on improving his stage presence."
OTHER PRO CARD WINNERS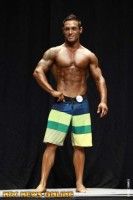 TYLER ANDERSON – Class A Winner
Judge's comments "Great stage presence. To move up the rankings in the pros he is going to need a little bit more cap in his delts and little bit more crispness in his abs."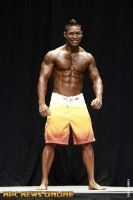 JOSEPH ANDAYA – Class A 2nd
Judge's comments "Great look, great stage presence. Positive smile, nice lines. Should do well in the pros."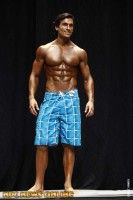 ANDREW GIACOMIN – Class E 2nd
Judge's comments "A little thick in the waist – he needs to work on bringing that in to be competitive at the next level."
WOMEN'S PHYSIQUE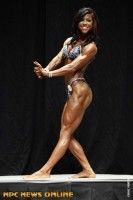 SAMANTHA HILL – Overall and Class B Winner
Age 26
Height 5'3
Weight 117
Residence Monroe, LA
Contest history/highlights 2012: Greater Gulf States 1st Class A and Overall; 2011: Optimum Classic 2nd Bikini Class A ; Nationals 12th Bikini Class A; 2010: Optimum Classic 5th Bikini Class A; Lonestar Classic 3rd Bikini Class A; Louisiana State Championships 3rd Bikini Class A
Judge's comments She has great stage presence. She's going to need a little bit more of a taper – she is a little staright up and down. Could bring her waist in and add a little more to her lats."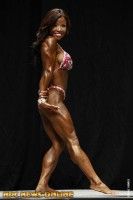 LOAN LEONARD – Class A Winner
Age 47
Height 5′
Weight 100
Residence West Sacramento, California
Contest history/highlights 2012: Governor's Cup 1st and Overall; Team Universe 4th Class A; 2011: Fresno Championships Figure 2nd Class A; Contra Costa Figure 4th Class A; USA Championships 9th Class A; 2002: Los Angeles Championships Bodybuilding 2nd Lightweight; USA Championships Bodybuilding 11th Lightweight; Nationals Bodybuilding 8th lightweight; 2001: Arizona Championships Bodybuilding 1st Lightweight and Overall
Judge's comments She's been competing for a while, just didn't have enough muscularity as a bodybuilder and was too muscular for figure. Good conditioning and nice lines."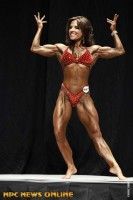 ANN MARIE KAM – Class A 2nd
Residence Eugene, Oregon
Contest history/highlights 2012 Emerald Cup 1st Class A and Overall; Jr. USA 10th Class A; Team Universe 7th Class A; 2011: Seven Feathers 1st Bodybuilding Lightweight; USA Championships 4th Class A; Nationals 7th Class A; 2010: Oregon State Championships 1st Bodybuilding Lightweight and Overall; USA Championships 6th Bodybuilding Lightweight; 2009: Emerald Cup 1st Bodybuilding Lightweight; 2007: Northwest Championships 1st Bodybuilding Lightweight and Overall; Nationals 9th Bodybuilding Lightweight; 2005: Nationals 5th Bodybuilding Lightweight; 2004: Seven Feathers Bodybuilding 1st Lightweight and Overall; 2003: Seven Feathers Bodybuilding 1st Lightweight and Overall; 200: Northwest Natural Bodybuilding 1st Lightweight and Overall
Judge's comments "Great symmetry, nice look on stage. She has a tendency to come in too lean and needs to watch that."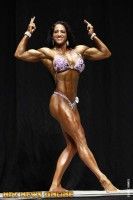 MICHELLE TRAPP – Class C Winner
Height 5'5 1/2
Weight 128
Residence San Diego, California
Contest history/highlights 2011: USA Championships 2nd Class B; IFBB North Americans 3rd Class B; Nationals 9th Class B
Judge's comments "Nice look on stage. She needs to work on brining her waist in a little – her waist is a little thick and it makes her look a little straight up and down in some poses. Also could add a little bit more muscularity and detail in her legs."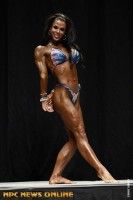 ANTONIA PERDIKAKIS – Class C 2nd
Age 29
Height 5'6
Weight 136
Residence Sparks, Maryland
Contest history/highlights 2012: Team Universe 6th Class B; Greater Gulf States 1st Class C; 2011: Eastern USA 3rd Figure Class C; Nationals 14th Figure Class E; 2010: Jay Cutler Classic 3rd Figure Class C; Team Universe 16th Figure Class E
Judge's comments "She is going to need more muscle in her upper body and be tighter in her glutes before she makes her pro debut."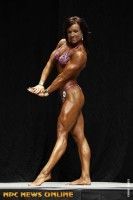 SARAH BUTLER – Class D winner
Age 25
Height 5'6 1/2
Weight 137
Residence Eugene, Oregon
Contest history/highlights 2012: Emerald Cup 2nd Class; 2011: Emerald Cup 11th Figure Over 5'6″ to 5'8″; 2010: Seven Feathers 1st Figure Class and Overall
Judge's comments "Nice symmetry, good muscularity in her upper body. Needs more detail in her legs."
OTHER PRO CARD WINNERS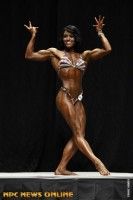 LAURA GUTILLA – Class B 2nd
Judge's comments "Beautiful look on stage. Needs more detail in her legs, especially in the hamstring area. Overall she has very good shape and great stage presence."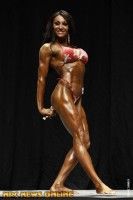 ALECIA MARIE RANKOVIC – Class D 2nd
Judge's comments "She has been competing since 2005 and is another competitor who tried both bodybuilding and and figure and didn't fit in either category. Nice muscularity and good conditioning."