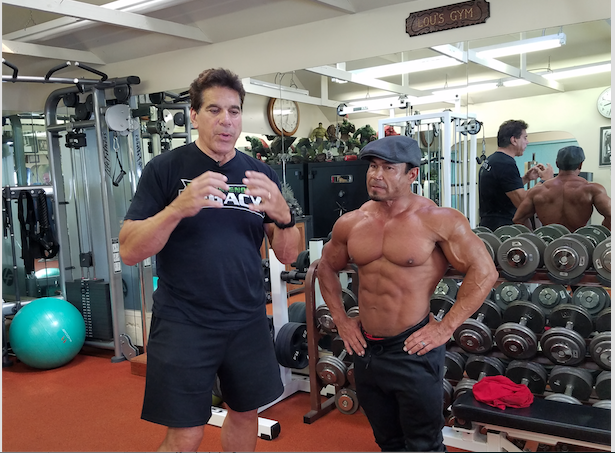 Lou Ferrigno Working On Posing With 2016 Men's Classic Physique Olympia Champion Danny Hester.
"INCREDIBLE HULK's" FERRIGNO LEGACY FITNESS COMPETITION WEEKEND
RETURNS TO PALM SPRINGS, CA.  October 29-30 .2016 Men's Classic Olympia Champion Danny Hester will be guest posing and commentating the live stream  for the Ferrigno Legacy with Lonnie Teper.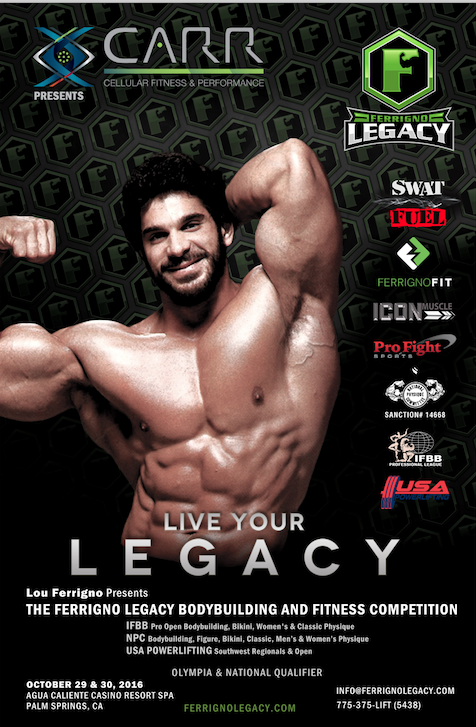 FOR IMMEDIATE RELEASE

 Media Interviews / Contact: Ted Johanson (540) 272-1767
ted@ferrignolegacy.com
 "INCREDIBLE HULK's" FERRIGNO LEGACY FITNESS COMPETITION WEEKEND
RETURNS TO PALM SPRINGS, CA
Lou Ferrigno and Lou Ferrigno, Jr. Welcome Pro and Amateur Bodybuilders, Powerlifters and 3,000 Fitness Fans this October 28-30thRANCHO MIRAGE, CA (September 28) — The 3rd Annual Ferrigno Legacy™ presented by Carr Cellular Fitness returns to Agua Caliente Casino Resort Spa in Rancho Mirage, CA near Palm Springs on October 28-30th 2016. California's newest and most prestigious IFBB Olympia and NPC national qualifier hosts 450+ athletes competing for trophies, cash prizes and fitness recognition along with more than 3,000 spectators. New this year is the addition of USA Powerlifting Southwest Regionals Competition on Sunday, October 30th."Thanks to our incredible athletes and fans, the Ferrigno Legacy has become the most talked about show on the West Coast. I'm excited to see everyone at what will be the biggest and best Ferrigno Legacy yet!" said Lou Ferrigno, former Mr. Universe and Mr. America.
The Ferrigno Legacy is a national qualifier for amateur athletes. Top qualified amateurs may go on to compete for pro status. IFBB Pro athletes contend for the prestigious achievement of a Mr. Olympia qualification. Renowned as one of the industry's best competitions by contestants, judges and spectators alike, the event features IFBB Pro Divisions: Men's Open Bodybuilding, Men's Classic Physique, Women's Physique, and Bikini.  Pros compete for $33,500 in cash prizes and all athletes compete for the legendary custom made "Incredible Hulk" trophies.  NPC divisions feature Bikini, Figure, Physique, and Men's Bodybuilding in multiple classes and levels. USA Powerlifting Southwest Regionals divisions feature Men's and Women's Powerlifting in Bench Press, Squat and Deadlift in multiple classes and age groups.
Hosted by actor Lou Ferrigno, Jr. and producer Chris Minnes, the event offers a full-slate of non-stop entertainment including a fitness celebrity red carpet event, pre-judging and evening show finals in the $76 million theatre, coffee with Lou Ferrigno (free Q & A event at The Lounge), a Halloween themed after-party presented by World Gym, and a photo shoot with the overall winning competitors at Indian Canyons.
The title sponsor of the Ferrigno Legacy weekend and USA Powerlifting Southwest Regionals Competition is Carr Cellular Fitness. Other key sponsors include: Swat Fuel, World Gym, Str8Shredded, Muscle Icon, Posing Technology, LLC, The Camp, Calibrated Training and Nutrition, International Protein, NPC West Coast, Tahoe Show, FerrignoFit.com, and Starkey Hearing Foundation.
Ferrigno Legacy Schedule:
Friday, October 28th
6:00PM – 7:00PM: Press Conference/IFBB Pro Meet & Greet
Saturday, October 29th
9:00AM – Coffee with Lou Ferrigno, Q & A session at The Lounge (free admission to public)
3:30PM – Pre-Judging for all IFBB Divisions at The Show
7:00PM – IFBB Finals at The Show
Sunday, October 30th
9:00AM – USA Powerlifting Southwest Regionals & Ferrigno Open at Agua Caliente Ballroom
9:30AM – NPC Pre-Judging at The Show
5:00PM – NPC Finals at The Show
Tickets are $15.00−$60.00 at www.hotwatercasino.com or (888) 999-1995. Parking is free. For more information, visit www.ferrignolegacy.com.
What: Ferrigno Legacy presented by Carr Cellular Fitness
Press Check-In: October 28th at 5:00PM (please contact in advance for TV & media truck parking)
When: October 28-30th 2016
Where: Agua Caliente Casino, 32-250 Bob Hope Drive, Rancho Mirage, CA 92270
Editors Note: For media interviews with amateur or pro competitors, Lou Ferrigno, Lou Ferrigno Jr. or Chris Minnes please email Ted@ferrignolegacy.com or call (540) 272-1767.
To download high res imagery please use this link: https://www.dropbox.com/sh/vv3hgmkpor296os/AAC3KpEHgeoZxMwGV-aN_Gt3a?dl=0
About Lou Ferrigno
Lou Ferrigno achieved bodybuilding icon status with back-to-back Mr. America and Mr. Universe titles. He starred in "The Incredible Hulk," "Pumping Iron," "Sinbad of the Seven Seas," "Hercules," "The Avengers" and other films and TV shows. He is the founder of Ferrigno Fit and a California Reserve Deputy Sheriff.
Website is www.louferrigno.com.
About Ferrigno Legacy
The 3rd Annual Ferrigno Legacy is produced by bodybuilding competitor and promoter Chris Minnes, Lou Ferrigno, and Lou Ferrigno, Jr. For more information, visit www.FerrignoLegacy.com.
About Agua Caliente Casino Resort Spa
Located near Palm Springs, California, the four-diamond property offers fine dining, spas, casino, luxurious hotel rooms, nightclub, on-site fitness center and the $76-million "The Show" theatre awarded "Best in America" with headliners like Billy Joel, Tony Bennett and Jay Leno. Visit www.hotwatercasino.com.
Relevant video links:
Ferrigno Legacy Sizzle: https://youtu.be/BXshsoLG30M
Live on KTLA: http://ktla.com/2014/11/25/the-ferrignos-want-viewers-to-participate-in-the-ferrigno-legacy/
Celebrity Sweat: https://www.youtube.com/watch?v=bLL7ERjX9GI