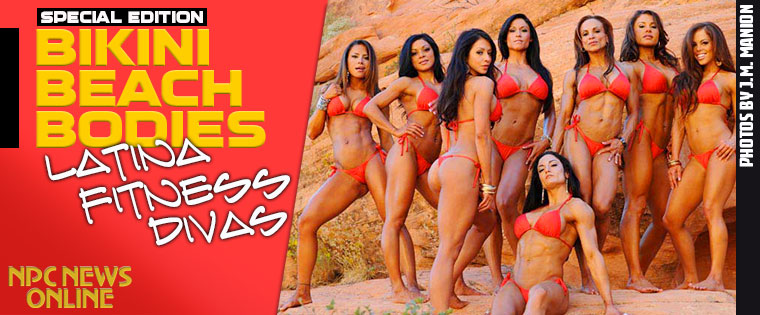 Photos and report by J.M. Manion – www.jmmanion.com
When Sunday, September 26, 2010, the day after the 2010 IFBB Joe Weider's Olympia
Where Red Rocks Canyon Park, Las Vegas, Nevada
Why Proposed Latina Fitness Divas™ Calendar
Who IFBB Pro Bikini, Figure and Fitness competitors Jaime Baird, Adela Garcia, Sonia Gonzales, Nathalia Melo, Shelsea Montes, Camala Rodriguez, Felicia Romero and Alea Suarez
Along For The Ride My son Tyler Manion and his friends Eric Nutter and Aaron Matesic
Facts Sonia Gonzales became the First IFBB Bikini Olympia Champion on September 24, 2010. Adela Garcia won her Fifth IFBB Fitness Olympia. Adela would go on to win Two more Fitness Olympia's in 2011 and 2012 bringing her overall total to date of Seven! Sonia Gonzales would also win the 2012 IFBB Bikini International. Nathalia Melo would win the 2012 IFBB Bikini Olympia. Jaime Baird, Shelsea Montes, Camala Rodriguez and Alea Suarez would all win IFBB Professional League competitions since this photo shoot.
The Story The photo shoot was planned for months as evident by the matching bikini's the athletes are wearing. We set out to Red Rocks Canyon Park which is about a 40 minute drive from The Orleans Hotel and Casino. This was about 1 p.m. after the athlete's fulfilled their obligation for the Sunday Olympia Superstar Seminar. Once in Red Rocks we had to walk about 20 minutes to the location. That is where Tyler, Eric and Aaron were able to help the athletes carry some of their bags. We photographed over 2,000 photos until close to sunset and then headed back to the hotel. What you are viewing here is about one-fourth of them. You'll see how difficult it is to get all 8 of them to smile or look at the camera at the same time, plus I've thrown in a few fun, in-between posing photos.
What Happened To The Calendar? After making several pitches to potential sponsors for the calendar over two years, most passed because they thought the photos were 'Too Sexy', 'Too Ethnic', 'We'll sponsor if you don't show any booty poses', 'We can't sponsor because X has a contract with Y supplement company and it will be a conflict of interest', etc. The comments that made me laugh were the 'Too Ethnic', (You think considering the title of the project?!) and the 'No Booty Poses' (Why?) I considered self-publishing but in the end it was not cost effective for me. Therefore I'm releasing them for all of our followers of NPC News Online!