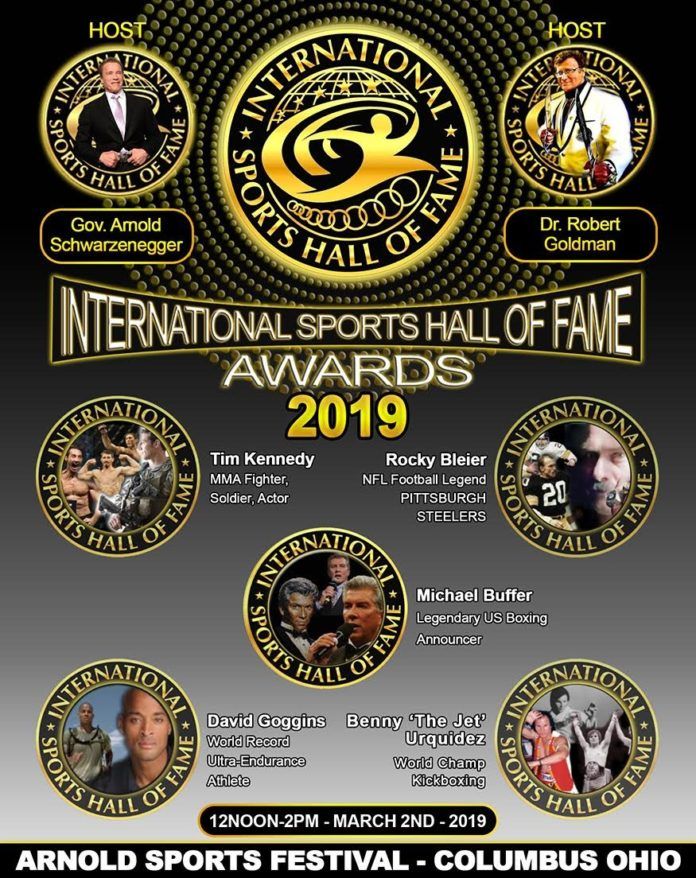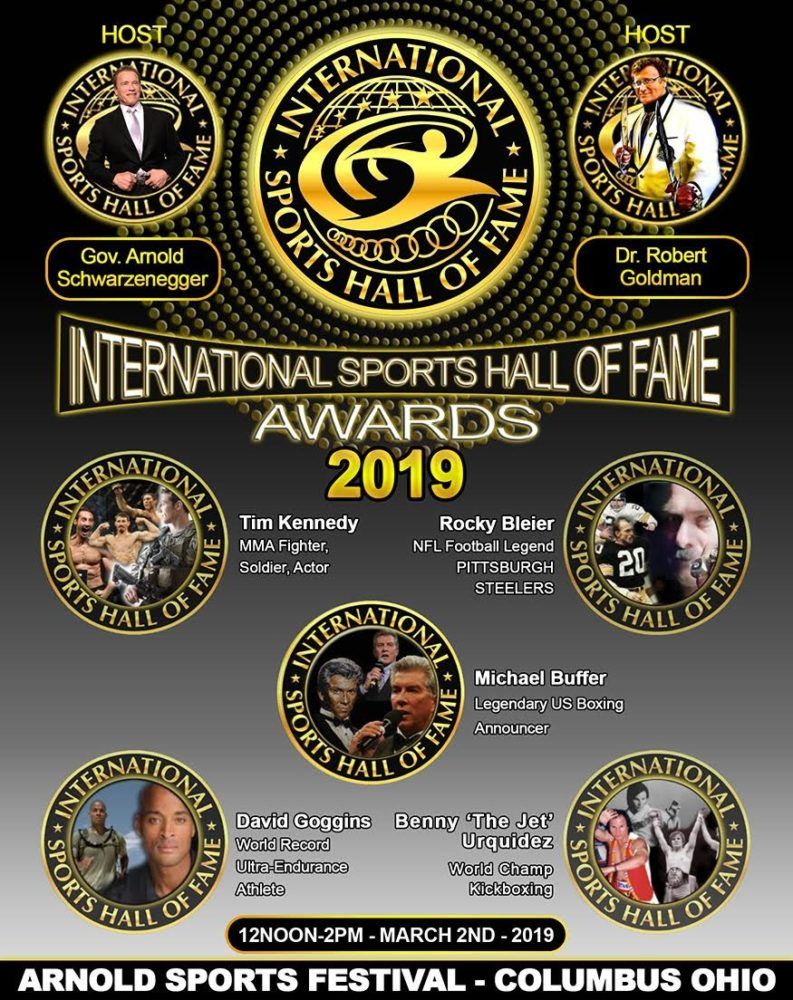 URGENT ATTENTION – LIMITED ACCESS TO VIP EVENT 
INTERNATIONAL SPORTS HALL OF FAME CLASS OF 2019
The Induction Award Ceremony for the International Sports Hall of Fame Class of 2019 will be held during the Arnold Sports Festival on Saturday, March 2, 2019, from 12:00p.m.-2p.m. in Columbus, Ohio.
Only select members of the international media and world champions will be allowed access by invitation only.
Inductees for the Class of 2019 are:
Rocky Bleier-NFL Football Legend, 4 Super Bowls, Pittsburgh Steelers
Michael Buffer-Legendary Boxing Announcer 'Let's Get Ready to Rumble'
David Goggins-World Record Holding Ultra Endurance athlete
Tim Kennedy-MMA Fight Champion, Actor, Solider
Benny 'The Jet' Urquidez-World Kick boxing Champion
For more information visit, www.SportsHOF.Org
Access to event will be strictly enforced with security due to high profile stars in attendance.
Ceremony will be hosted by Governor Arnold Schwarzenegger and Dr. Robert Goldman.
If you wish to be considered for the invitation only VIP list, please send an email requesting written permission for access to event, which you must print out and bring with you to HOF Ceremony along with your business card.  ISHOF reserves the right to deny access and resend the invitation for attendance.
No one without permission in writing will be allowed to attend.
If you have not already, please send your request by email to:
Dr. Robert M. Goldman
Founder & Chairman-International Sports Hall of Fame
(Include your: Full legal name, Media affiliation, Mailing address, Email address and Cell phone.)
Thank you,
Organizing Committee-International Sports Hall of Fame
Robert M. Goldman MD, PhD, DO, FAASP
World Chairman-International Medical Commission
Co-Founder & Chairmen of the Board-A4M
Founder & Chairman-International Sports Hall of Fam
Co-Founder & Chairman-World Academy of Anti-Aging Medicine
President Emeritus-National Academy of Sports Medicine (NASM)
Chairman-U.S. Sports Academy's Board of Visitors