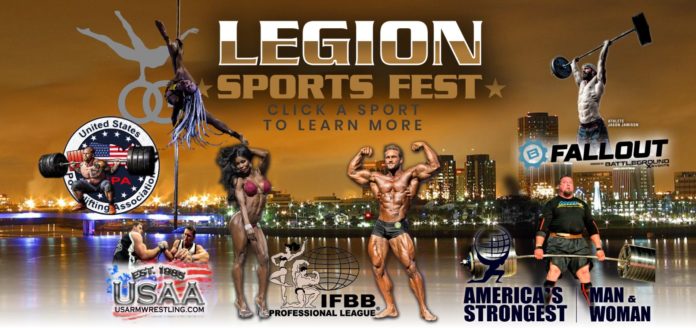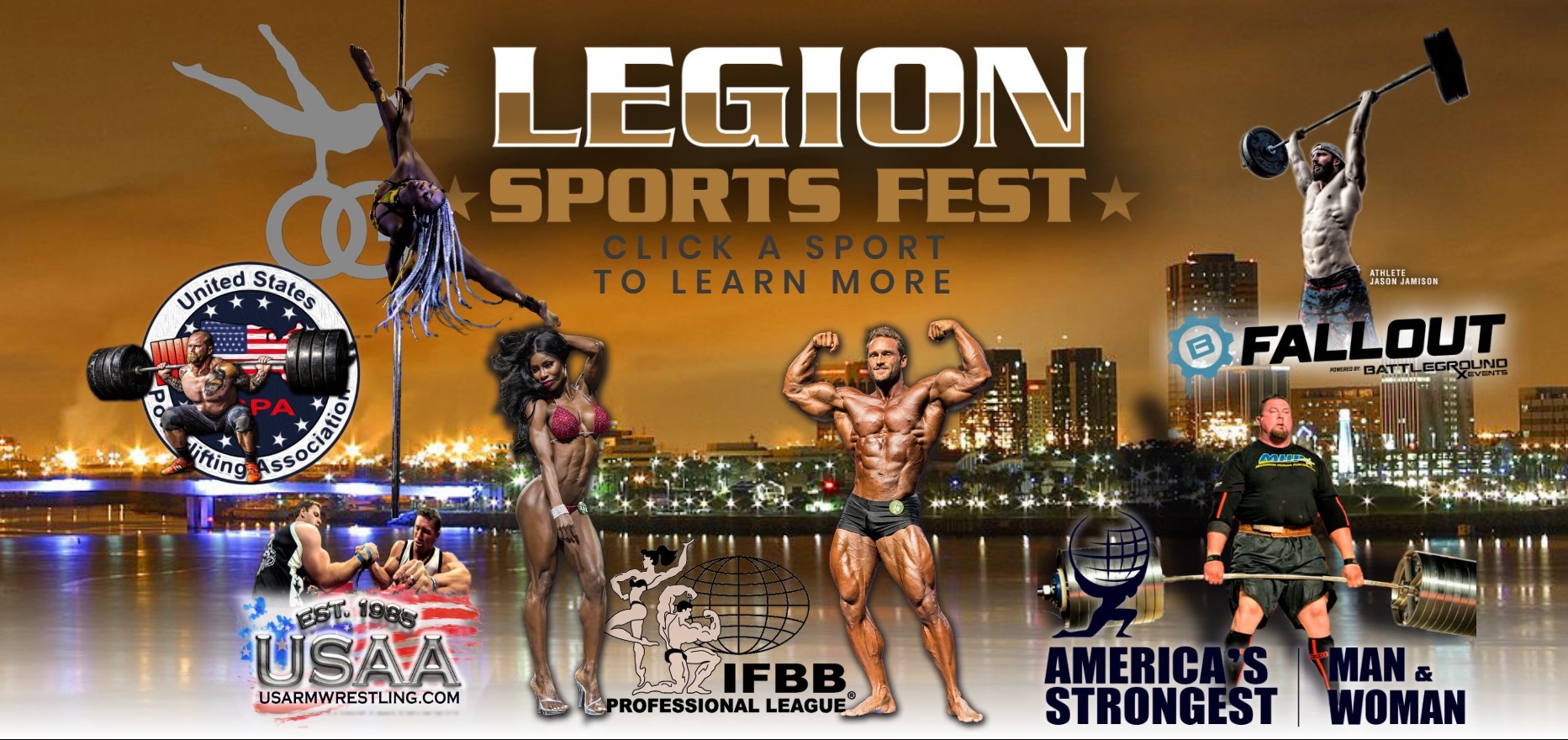 FOR IMMEDIATE RELEASE
GLOBAL FORMULAS ANNOUNCED AS TITLE SPONSOR OF LEGION SPORTS FESTIVAL
10,000 attendees/athletes to discover their hidden fitness super-powers this September 28-30 in Long Beach, CA at Long Beach Convention Center
LONG BEACH, CA (September 4, 2018) – Fitness expos will be reinvented on September 28-30 at the Long Beach Convention Center with Legion Sports Festival, presented by Global Formulas. The event is an immersive fitness vacation experience with a 100,000 ft2 showcase of eight fitness-related sports, 1,500 athletes, 200 companies, seminars, celebrities, obstacle courses, and cash and prize contests open to all expo attendees.
"With a team of over 30 IFBB Pros, who all religiously take the product, we are making out mark as 'The' product to have in your supplement arsenal.  Global Formulas is excited to partner with Legion Sports Fest, helping to make this amazing two-day event one to remember!" said Jacob Frank, founder and president of Global Formulas.
"With their rapid growth starting in 2014, Global Formulas is now widely considered the most cutting-edge, highest quality sports nutrition company in the industry.  We [Legion Sports Festival] are excited to be the first Multi-Sport Fitness Expo and IFBB Pro Contest to align with Global Formulas at the Title/Premier Sponsorship Level.  I have a feeling you're going to see a lot more of Global Formulas and their fast-growing IFBB pro athlete team over the next year!  said Ted Johanson, Director of Strategic Partnerships for Legion Sports Festival and Center Podium Productions.     
The Legion Sports Festival is headlined by California's largest IFBB Pro Competition where pros compete in the following divisions: Men's Bodybuilding 212, Men's Classic Physique, Men's Physique, Women's Physique, Fitness, and Bikini.  Pros compete for $26,000 in cash prizes.
Six Mr. and Ms. Olympia Champions joined forces with Center Podium Productions to create a new, first-class, fitness vacation experience focused on helping attendees and athletes of all levels find the superhero version of themselves.
The Legion of Olympians is an elite group of some of the top Mr. and Ms. Olympia champions in the world.  They found their inner superhero along their fitness competition careers and are driven to give back to the sport by sharing their knowledge and experience to help aspiring athletes across all sports.  The Olympians include:
4x Ms. Fitness Olympia, Oksana Grishina
2008 Mr. Olympia Dexter "The Blade" Jackson
3x Ms. Bikini Olympia, Ashley Kaltwasser
The first ever Classic Physique Mr. Olympia, Danny Hester
The first ever Men's Physique Mr. Olympia Mark Anthony
8x Ms. Olympia, Lenda Murray
"We are grateful to have the best bodybuilding athletes in the world so involved with this event. With a roster like this, I think, 'epic' won't even begin to describe what these incredible athletes will bring to the Legion Sports Fest," said Chris Minnes, owner, and producer.
All Sanctioned Competitions Include:
FALLOUT by Battleground Events – Functional Fitness *Sold out with 364 athletes*
Cesar Gracie Open – Jiu-Jitsu Tournaments and Seminars by Renzo Gracie
USAA Arm Wrestling – Pro/Am
America's Strongest Man & Woman
Roller Derby Tournament by Bad Fish Roller Derby
USPA Powerlifting
Oksana Grishina Pole Fitness Classic
IFBB Pro Bodybuilding with the following divisions: Bikini, Bodybuilding 212, Figure, Women's Physique, Men's Physique, Classic Physique, Fitness
What makes Legion Sports Festival different?
The event is visually exceptional. The sense of arrival is one of grandeur and class thanks to a blend of the incredible Long Beach Convention Center, the layout, and branding of the event.
"Outdoor Arena of Badassery"

Roller Derby Tournaments, FALLOUT Functional Fitness Team Competitions by Battleground Events, Food Trucks, Live Action

IFBB Pro sanctioned with six divisions

Winners receive a guaranteed Arnold Sports Festival Invitation
All divisions receive points or guaranteed Olympia 2019 Qualification depending on placing

U.S. Air Force Special Operations Flight Simulator
HD Live Web-streamed event at no charge to the user
Fitness Pro Educational Series

Industry leading speakers fr a series of workshops designed to bridge the gap between theory and practice on exciting subjects like HIIT, Glute Training, Kinesio Taping, Injury Prevention, Mobility Training, and more
This event is approved fr continuing education credits with the accredited personal training organizations National Strength & Conditioning Association (NSCA), National Academy of Sports Medicine (NASM), and the Athletics and Fitness Association of America (AFAA). It is open to anyone looking to broaden their knowledge of fitness training

Lead by athletes, for athletes (Legion of Olympians and Center Podium's entire staff are current/former athletes in Bodybuilding, Power lifting, Skiing, Snowboarding, and Motocross)
Exclusive Red-Carpet Celebrity Event at IFBB Finals

Red Carpet function open to the public, IFBB Pro Finals is a ticketed event starting at $54.49

Held at the stunning Long Beach Convention Center to provide 100,000 ft2 of indoor/outdoor sanctioned fitness competitions, contests, seminars, obstacle courses, vendors.
Focused on helping people find their best self, not helping people only find free samples
Unique and entertaining sports not usually seen at fitness expos: Roller Derby, FALLOUT by Battleground Events Functional Fitness, Oksana Grishina's Pole Fitness Classic
VIP Sponsor Soiree at a secret location for exhibitors and sponsors to network before the event
Gold Saturday/Silver Sunday:

Participating spnsors and exhibitors will provide an exclusive special offer in limited quantities for each expo day
Friday, September 28, 2018
| | |
| --- | --- |
| 7:00 PM | Pole Press Showcase with Oksana Grishina at Beverly O'Neil Theater |
Saturday, September 29, 2018
| | |
| --- | --- |
| 9:00 AM | Expo Doors Open for VIP, Competitors and Premier Ticket Holders |
| 9:30 AM | Expo Doors Open for General Admission |
| 9:30 AM | IFBB Pro Check-Ins |
| 9:30 AM | USPA Powerlifting, FALLOUT by Battleground Events, America's Strongest Man, America's           Strongest Woman, USAA Pro/Am Arm wrestling Begins |
| 10:00 AM | Oksana Grishina Meet and Greet |
| 11:00 AM | Men's Legion Seminar with Dexter Jackson, Danny Hester and Mark Anthony |
| 1:00 PM | IFBB Pro Pre-Judging Begins |
| 2:00 PM | Fail to Win – Maximum Reps Contest with Celebrity Host Mike O'Hearn |
| 3:00 PM | Meet 8x Ms. Olympia Lenda Murray |
| 4:00 PM | Meet 3x Ms. Olympia Ashley Kaltwasser |
| 5:00 PM | Expo Ends |
| 6:30 PM | Fitness Celebrity Red-Carpet Media Event at Beverly O'Neil Theater and Doors Open to IFBB Pro Finals |
| 7:30 PM | IFBB Finals Begins with a guest performance by Ms. Fitness Olympia, Oksana Grishina |
| 10:00 AM | Oksana Grishina Meet and Greet |
Sunday, September 29, 2018
| | |
| --- | --- |
| 9:00 AM | Expo Doors Open for VIP, Competitors and Premier Ticket Holders |
| 9:30 AM | Expo Doors Open for General Admission |
| 9:30 AM | USPA Powerlifting, Roller Derby, America's Strongest Man, America's Strongest Woman, USAA Arm wrestling Begins |
| 10:00 AM | Women's Legion Seminar with Ashley Kaltwasser, Oksana Grishina, & Lenda Murray |
| 10:30 AM | Cali's Hottest Package – Best Body Part Contests hosted by Mike O'Hearn |
| 11:00 AM | Meet first ever Mr. Classic Physique Olympia, Danny Hester |
| 12:00 PM | Meet first ever Mr. Men's Physique Olympia, Mark Anthony |
| 1:00 PM | Meet 2008 Mr. Olympia, Dexter "The Blade" Jackson |
| 1:00 PM | Oksana Grishina Pole Fitness Classic |
| 2:00 PM | Quest Nutrition presents Deadlift for Reps |
| 3:00 PM | Strategies for a Fueling Super Human Physique with Damon McCune MS, RDN, LD |
| 5:00 PM | Expo Ends |
Key sponsors of Legion Sports Festival include Carr Cellular Fitness, One% Nutrition, SWAT Fuel, U.S. Air Force, LEOMICCI, Icon Muscle, Calibrated Training and Nutrition, K3 Scooper, Royalty Nutrition, California Beef Council, Beef It's What's For Dinner, TC1 Gel, and Unlimited Performance Supplements.
Spectator tickets are $29.99 to $109.49 and are available at a 15% discount until 8/31/18
For information, registration, tickets and a full event schedule visit www.LegionSportsFest.com.
# # #
EDITORS NOTE: To schedule pre-show interviews with Legion Sports Festival producers or Legion of Olympian members; please contact Ted Johanson at (707) 968-7672 or ted@centerpodium.com 
What:                                       Legion Sports Festival Multi-Sport Fitness Festival/Expo
Press Check-In:            Friday and Saturday September 28 and 29, at 9:00 AM & 5:30 PM (please contact in advance for TV & media truck parking)
When:                                       Friday September 28-Sunday September 30
Where:                                     Long Beach Convention Center 300 E Ocean Blvd, Long Beach, CA 90802
About Chris Minnes & Center Podium
Voted 2017 promoter of the year, Christopher Minnes is known as the premier bodybuilding event promoter in the West. He has produced the NPC/IFBB sanctioned Legion Sports Festival since 2011, the NPC West Coast in Riverside, CA and the IFBB Legion Sports Festival with a 100,000 ft2 multi-sport fitness expo. With a background in event promotion beginning in 1991, Minnes has produced hundreds of events including concerts, ski & snowboard races, mountain bike races and much more. Center Podium is the managing company for the NPC Motherlode, Tahoe Show, NPC West Coast, Dexter Jackson Classic and the Legion Sports Festival. For information visit www.centerpodium.com.
About Global Formulas
Global Formulas is dedicated to providing the most powerful and complete products you will ever experience. No expense is spared when formulating new categories. Our long-standing philosophy has, and will always be athletes will pay slightly more if they achieve noticeably better results. We are the innovators of CTFtm (Chelation Technology Formula), the only company on the market to utilize this ultra-powerful strength and recovery blend. From CTFtm to powerful herbal extracts, to our unique formulations, we are at the top of every sports nutrition category. We have built an incredible following of high-end athletes who depend on us to exceed their nutritional requirements. We don't need paid spokespeople or costly advertising. We are content at being the company that athletes from every walk of life recommend to their peers. That in itself will continue to propel our reputation as the highest quality sports nutrition company in the industry; Train Hard. Demand the Best. Global Formulas. For information, visit www.GlobalFormulas.com
About Long Beach Convention Center
The Long Beach Convention & Entertainment Center is a modern and stylish facility located in the heart of Long Beach's downtown waterfront. The Center features more than 400,000 square feet of flexible exhibit and meeting space, two theaters, four ballrooms, an arena and 34 multi-purpose meeting rooms. The glass-domed Promenade Atrium, with sweeping views of the scenic waterfront and downtown skyline, is available for pre-functions, receptions, and special events. For more information, visit www.LongBeachCC.com.
ABOUT THE IFBB
The National Physique Committee (NPC) is the largest amateur bodybuilding organization in the United States. Amateur bodybuilders compete in competitions from local to national competitions sanctioned by the NPC. One amateur organization per country is recognized by the International Federation of Bodybuilders (IFBB), which is bodybuilding's international organization. The IFBB recognizes the NPC as its amateur extension for the United States. Advanced athletes can progress as professionals and join the IFBB Professional League which is the only way they can qualify to compete for bodybuilding's highest honor, winning the Mr. Olympia contest.
PHOTO CAPTIONS:
  Photo #1:  2018 Legion Sports Festival's Legion of Olympians
Photo #2:  Long Beach Convention Center
Photo #3:  Legion Sports Festival Sports
High-resolution images and video can be downloaded by visiting www.LegionSportsFest.com/media