I've loved Mexican food since I was a kid, and those cravings for good Mexican food still haven't gone away. On occasion I'll still opt for an old favorite if it's time for a "treat". But for those days I'm trying to stay on track and keep my calories within check, we all need to find options that are healthy. This is an option that surely fits the bill.
INGREDIENTS
• 6 corn tortillas (2 per serving)
• 3 Morningstar sausage patties
• 1 cup liquid egg whites
• ¼ cup unsweetened almond milk
• 1 oz diced white onion
• 3 tsp (a pinch each) part-skim shredded mozzarella cheese
• 6 tbs salsa (I like Roasted Tomatillo from Costco)
• ¼ tsp chili powder
• 1/8 tsp ground cumin
• dash sea salt
• dash garlic powder
• 9 tbs nonfat Greek yogurt (3 per serving)
• 3 oz sliced avocado (1 per serving)
• Mrs. Dash Fiesta Lime seasoning to taste
* Makes 3 servings (2 stuffed tortillas each)
DIRECTIONS
• Preheat oven to 350 degrees.
• Coat pan with cooking spray and heat over medium
• Preheat sausage patties in microwave per package instructions. When done, cut in to small pieces and put aside
• Dice onion and saute in pan until transparent
• Whisk eggs, milk, sea salt, cumin, chili powder, and garlic powder. Pour in to pan with onions and cook until nearly scrambled
• Add meat and stir
• Coat 3 small bread pans with cooking spray and divide egg mixture between 6 tortillas, roll, placing two in each pan
• Spoon 2 tbs salsa over each pan and sprinkle with shredded cheese
• Bake in preheated oven for 15 minutes. Serve with nonfat Greek yogurt and sliced avocado.
TOTALS
Calories 286
Protein 27.61g
Carbohydrates 27.95g
Fat 7.26g
Sodium 579.96mg
Fiber 4.92g
Sugars 5.99g
Want more great-tasting recipes? Go to www.jen-fit.com!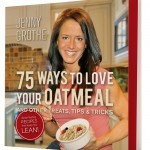 Jenny Grothe is an NPC Figure competitor, mother and author. Her book, 75 Ways To Love Your Oatmeal, is available here. She is a writer/recipe creator for Oxygen and Muscle & Fitness Hers magazines, as well as the NPC News Online. See more of Jenny's recipes at www.jen-fit.com or on her Facebook page, Recipes for Gals in Figure and Bodybuilding.