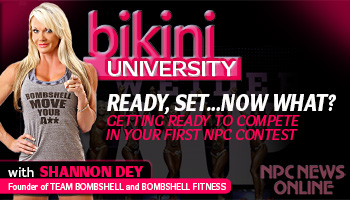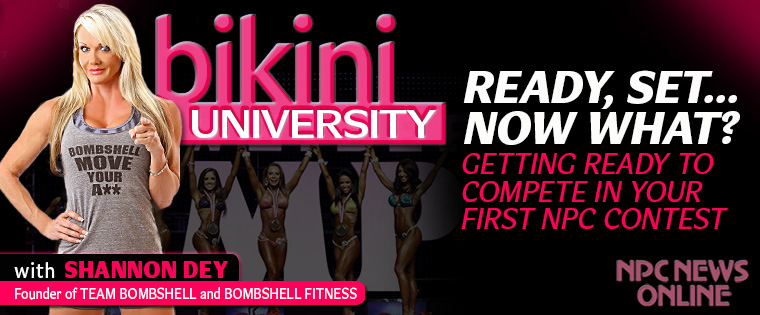 Congratulations – you have decided to embark on a competitive journey in the NPC! It is an endeavor that will teach you how strong you can be both physically and mentally. It is a journey that will forever change your life and one that you will NEVER forget!
So now that you have caught the bug to compete, where do you start? That can seem a bit overwhelming in the beginning. From picking a division, to training and dieting, to suits, shoes and tanning, it is a whole new world! You actually have already taken the BEST initial step by coming here to npcnewsonline.com! This site is an AWESOME resource for everything related NPC/IFBB, so pat yourself on the back for starting off on the right foot!
Here are some simple first steps to get you on your way toward hitting the stage for your first show.
1 Attend a local NPC event
The BEST way to learn about competing is to attend a competition – don't compete in a show before you event attend one You can find a show in your area right here on npcnewsonline.com (Go here to see 2013 NPC schedules for every division). Make sure that you attend both pre-judging and finals for the event. The pre-judging, which is usually held in the morning, is when the actual judging occurs. You will get to see how the judges compare the athletes and the sequence of events. The night show is just that – a show! The only live judging done at night is for the Overall Champions. You can see how the athletes you observed in prejudging placed in order to give you a better idea of the types of physiques rewarded by the judges.
2 Pick a division
Now that you have attended a show, you can make an educated choice as to which division is the best fit for you. Which athletes inspired you the most to compete? Which physiques did you like the best? Some athletes choose their division based on other people's opinion of what is best for them. The only way that you are going to be motivated to train and diet each and every day is if you are EXCITED about the physique that your hard work is producing. So choose your division based on what YOU like and want your physique to be!
2 Coach or no coach?
There are many trainers and coaches who work with athletes all over the world. On every stage you will find athletes that utilize the services of these coaches and trainers, and those who do not. There are those who offer online services as well as in person, one-on-one services. You may not be sure if you can afford to hire a coach or trainer. However, you will find that by hiring a professional, you will be taking a lot of guesswork out of your show preparation and will most likely save money and time by avoiding costly mistakes and doing things right the first time. If you do decide to use a coach or trainer, make sure that they have a track record of success in the NPC/IFBB. Ultimately, the choice is yours.
2 Pick YOUR show
Now that you have attended an NPC event and know what division you will be competing in, it's time to pick a show! When you are starting your NPC career, always compete in your local events. As your career progresses, you will be competing in National events that will most likely be held outside of your local area. Now is the time for you to compete in or near your hometown where your friends and family can come to cheer you on! In addition, you have enough to think about during your first shows, there is no need to throw the stress of travelling into the mix. There will be plenty of time for show travel as you progress in your competitive career.
5 The OTHER stuff
In addition to your training and nutrition, there are other aspects of competing that require planning. Do something each day toward the other tasks necessary to compete rather than trying to put together everything all at once. Pick your suit color, order your shoes, research tanning methods … each one step at a time. A small step each day will help you arrive at your destination prepared and calm without a last minute rush. Most of all, enjoy the process of preparing for your show. You will NEVER have another first show and by being prepared, ready and diligent it can be a fantastic experience!
The beginning of your competitive career is a VERY exciting time! With the proper research and planning, you can enter your first show confident that you are ready and prepared to be the best that you can be on that particular day. Get excited! I can't wait to see YOU on stage!!
ABOUT SHANNON DEY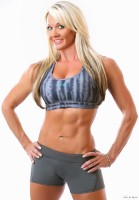 IFBB Fitness Professional Shannon Dey is the Founder of Bombshell Fitness and Team Bombshell. Over the past three years, Bombshell Athletes have earned 65+ IFBB Pro Cards, and Team Bombshell has produced two IFBB Bikini Olympia champions. In the 2012 Bikini Olympia, four of the top five finishers were Bombshell Athletes.
Shannon holds a Masters Degree in Health Education and is currently working toward her Ph.D. in Sports Psychology. For more information on Bombshell Fitness and Team Bombshell, visit their website at www.bombshellfitness.com or visit the Team Bombshell Facebook page.