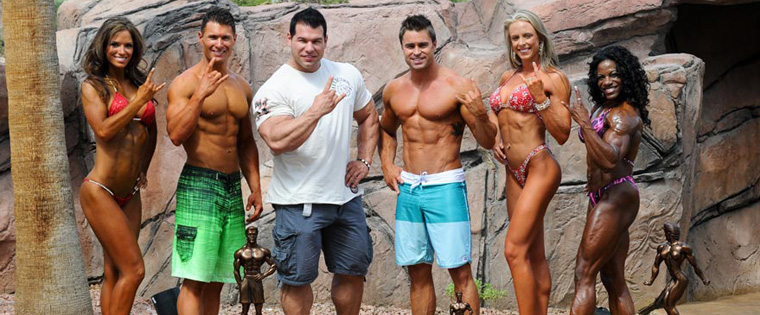 Photo-Report: J.M. Manion – www.jmmanion.com
In the previous two installments we showcased the 2012 NPC Junior National Bodybuilding, Fitness, Figure, Bikini and Physique Championships and 2012 NPC Team Universe Bodybuilding, Figure, Bikini and Physique Championships and NPC National Fitness Championships NPC News Sunday photo shoots with me, J.M. Manion. I am moving on to the 2012 NPC USA Bodybuilding, Figure, Bikini and Physique Championships. Although the contest is held at the Artemus W. Ham Concert Hall on the Campus of UNLV my NPC News photo shoots are always held at the Embassy Suites host hotel.
As you can imagine there are several hundred photographs taken that eventually get whittled down to approximately 15-20 that will be printed in the NPC News. So what happens with the photographs I don't use? Until now, nothing. They either sit on my server or get stored on an external hard drive. Now you have the chance to view 800+ photographs from this photo shoot. That is every photograph I clicked during this time.
The NPC USA Championships presents a challenge due to the fact that I always do these photo shoots outdoors. Therefore I am constantly at the whim of the ever changing Las Vegas weather. No, it's not always sunny and 100+ degrees. In 2011 it was sprinkling and eventually turned into a full blown rain storm. If you go back and review that NPC News cover and interior photographs that featured Steve Kuclo amongst others, just know that was photographed while it was sprinkling! It was the first time I had to try to do some of the Bikini and Figure class winner photos inside the lobby area of the hotel. Honestly I was less than thrilled with the results. In the end our outstanding NPC News (print) Creative Director Carl Chiocca (www.chiocca.com) made me like look a 'Rock Star' with his manipulation of all the photographs for which I was very thankful!
Here's something else to consider. Just because it's sunny outside doesn't mean I can just set my camera at one setting and shoot away. As I've stressed previously the major factor that works against me when I do these photo shoots is time available. I have about a 4-5 hour window to coordinate and photograph the 33 NPC USA Class Winners from every division. The sun is moving that entire time. Usually I am able to get one of the athlete's significant others to help hold a light disk for me to help with the moving sun light. This year I couldn't get any volunteers! Yet there had to be close to about twenty people milling about watching me sweat it out during the shoot. Don't get me started about 'dry heat'! Because of these circumstances you'll see that I use variations in exposure and composition to give myself enough variety for the NPC News staff to select what they like.
As much as I always wished this was a 'closed set' it is not. I have to contend with other photographers doing photo shoots in the area along with the aforementioned NPC athlete's significant others, journalists and videographers from other publications wanting to interview these athletes who all qualified for the IFBB Professional League and last but not least, non-NPC related hotel guests. Some of whom get downright nasty about having these athlete's around the pool area. Over the years I've gotten lots of snide comments from these hotel guests and have even had to deal with the hotel staff because these guests complained about me doing the photo shoots. No difference this year either! Lots of challenges to say the least! Remember I am basically a ONE-MAN SHOW doing this entire production!
I hope you enjoy this 'Behind The Scenes' look at what goes into these photo shoots.