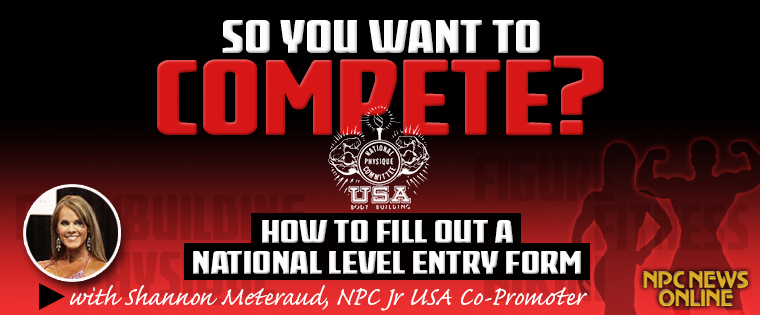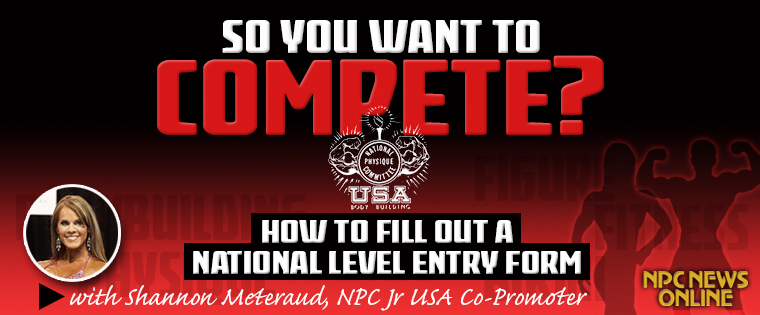 There is a lot that goes in to competing in a National-Level NPC contest. First and foremost is filling out your entry form to make sure you are allowed to compete in the contest.
IFBB Fitness Pro and Junior USA co-promoter Shannon Meteraud and her husband Tres Bennett recently hosted this year's contest – the first pro qualifier of the year – in Charleston, South Carolina. Check out her six tips for completing a National-Level entry form to make sure you know what you're doing when preparing for your next pro qualifier.
1. DON'T WAIT UNTIL THE LAST MINUTE
As they say… procrastination makes easy things hard and hard things even harder. Competitors have several things to prepare and plan, so why not take care of the simple entry form early? National-Level contest entry fees can range from $100- $200, and this amount only doubles if the deadline is missed. What if you aren't sure you'll qualify? Some promoters will allow you to send it your entry fee regardless – just make sure to verify with the individual promoter because everyone is different. Place a note with your entry form that you plan to qualify at the "NAME OF SHOW" on "DATE OF SHOW". If you fail to qualify, the promoter will refund your money. If you wait to send the entry, you risk paying double or potentially missing the deadline to enter all together.
2. WRITE LEGIBLY
Think of this as a job application. Use your best handwriting when writing your name, email and phone number. I found it difficult to read several e-mail addresses for the Junior USAs. Therefore, when I needed to confirm an entry by e-mail and but couldn't make out the handwriting, I had no way to contact the competitor. If a promoter cannot make out your handwriting, your name may not make our competitor list properly, which is a direct list for online placing, photos, etc.
3. COMPLETELY FILL OUT THE CORRECT ENTRY FORM
The top of each form should read the division that you plan to compete in. Make sure if you are competing in Figure, you fill out a Figure form… and so on.
4. HELP PROMOTERS FIND YOU
Promoters have to confirm that each competitor is qualifier for a National-Level contest. When listing the contest at which you qualified, write down the entire name of the contest. Even if it is as long as "Sue and John's Muscle Beach Extravaganza Showdown Battle of the Buff Championships" (That name is made up, of course!) If you simply share half the name of the show, it does not help us search for the show online.
5. SEND IN ALL NECESSARY DOCUMENTS
In order to compete, you must be a current registered NPC cardholder. This means the top of your NPC card should read "expires December 2012." So obviously, if 2011 is the date on the card, you need to purchase a new one. You cannot buy an NPC card at a national level show. You must have one prior to the show date. Your card is good for one calendar year, regardless of when you purchase it. Entry forms include a checklist to be completed in order to register. Read the checklist and make sure that you have all documents that are requested. If you do not have a current NPC card and are in the process of receiving one, place a note with the entry. If you only have a receipt of purchasing a card, include the receipt.
You must also be a citizen of the United States. Proof of citizenship is a passport, birth certificate or military I.D. Neither your driver's license nor your social security card proves you were born in the U.S. In addition, you should not send that type of personal information in the mail. If you are sending a birth certificate for proof of citizenship and you are now married, you need to send in the documentation that shows that your name has changed, like a copy of your marriage license.
NEED AN NPC CARD? GET ONE HERE


6. MAIL YOUR ENTRY BY CERTIFIED MAIL, FED EX OR UPS
You cannot track regular mail. Sending by one of these means gives you a tracking system in case your entry has not been received. You are able to track your entry and in the rare case it is lost or arrives late, you have proof to show it should have arrived by entry deadline. I had a few athletes call and claim they had sent their entry form but because they had no proof and they could not track it, they had to pay the entry fee again. Better safe than sorry!