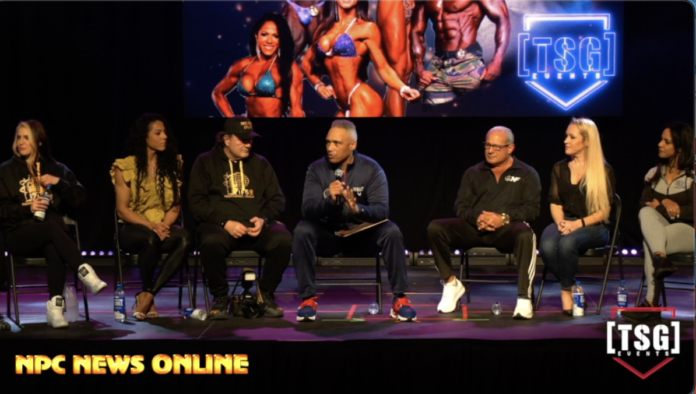 Day 2 of the 2021 Free Victory In Posing Seminar weekend from February saw 350+ attending the event all day Saturday from 9 a.m. to 7 p.m. @theshopgym in Ashburn, VA via @tsg.events
We have an #exclusive video with @npcnewsonlineofficialpage Chief Photographer J.M. Manion @aroundthenpc_jm as speaker at the seminar as part of the round table discussion with @rob.wilkins.359 and Dr. @garyudit on stage.
You can see the full video on npcnewsonline.com or on our YouTube Channel.
Photos from the seminar are currently on npcnewsonline.com as well.
@ifbb_pro_league @npcworldwideofficial @npcnewstv @npcfitbody @npcwellness @npcworldwidewellness @ifbbproleaguewellness @t_manion @frank_sepe @skylarlanier_ifbbpro @ifbb_pro_jujub2011 @loli_fitness @rachellecannonfitness @iamcharjo @georgep_dabull @loli_fitness @fitprobecky @siegelmanrichard @mskristakay @fitandfuriousllc @stage_ready_1 @bodybyo @jason___tsg @bouchems @mila_lovefitness @costaphotography @ocdcookieco @jerrywardii @ateamfitness11 @bbcustomsuits @willowst.designco @jmmanion @dangomez_bf @thebitarinstitute @lekko_aesthetics @bodybling.jewelry @desi_lipova @mysportyshop @goddessnewyork @_glowfit_ @makeup_artistry12 @permanent_makeup_regina @whitted_wellness @bodyfit_nutrition_protein_bar @body_fit_chic @mylifellc @olympiatanning @ninjavikingllc @nostressprep @gymreadylips @corrymatthews @staciadkelly @lady_fuerte @byefelecia @thebitarinstitute @wahinecreativesolutions @ifbbpromichellebrent @dimensional_athletica @on1eclothing @korielisabeth_ifbbpro @royevans360 @chrisnicole_ifbbpro @yolyjlo @luissanta1 @shawncarla_ifbbpro @fitteresanicole #posing #npc #olympia #ifbbproleague #jmmanionphotography #npcbodybuilding #npcfitness #npcmensphysique #npcclassicphysique #npcwomensphysique #npcfigure #npcbikini #npcwellness #ifbbprobodybuilding #ifbbpro212 #ifbbproclassicphysique #ifbbprofitness #ifbbpromensphysique #ifbbprofigure #ifbbprowomensphysique #ifbbprobikini #ifbbproleaguewellness