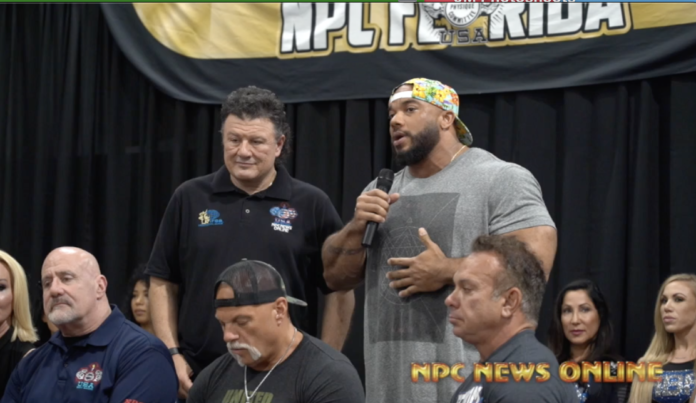 Part 4 of the videos features @npcnewsonlineofficialpage Chief Official Photographer and Host J.M. Manion @aroundthenpc_jm interviewing 2020 #NPCJrUSA and 2020 #IFBBNYPro Women's Physique Champion Rachel Daniels @therealoislane_ifbbpro and 2019 and 2020 @ifbb_pro_league Women's Physique International ( @arnoldsports ) Champion Natalia Coelho @ifbbpronataliacoelho before moving on to 2017 #IFBBNYPro Bodybuilding Champion Sergio Oliva Jr. @sergioolivajr and winding up with 2019 #IFBBProLeague @niagarafalls_proshow Champion Terrence Ruffin @ruff_diesel who ended up in 2nd at both the 2020 @mrolympiallc Classic Physique and Arnold Classic Physique.
Also listen to some interesting insight about the 2020 @mrolympiallc Classic Physique judging by Head Judge Steve Weinberger and some important statements by Dan Solomon.
Watch the full video on npcnewsonline.com and our YouTube Channel.
Saturday, March 27 saw over 1,000 people attend the FREE 2021 #NPC / @ifbb_pro_league MIAMI (AD)VICE Yamamoto Nutrition FLORIDA "SUPERSTAR SATURDAY SEMINAR" organized by Tim Gardner @tgflex with Featured Speakers;
-Olympia Head Judge Steve Weinberger @bevsgym
-Legendary Pro Bodybuilder Rich Gaspari @richgaspari
-Chief Olympia Officer and President Dan Solomon @dansolomon_official
-NPC and #ifbbproleague Promoter Mel Chancey @melchancey316
-NPC and #ifbbproleague Promoter Shannon Dey @shannondey
This FREE NPC Florida instructional clinic was generously hosted by #IFBBPro and Pro Body Tech Empire Gym @probodytechempiregym owner, Sam Yehia @teamprobodytech as he dedicating his state-of-the-art 37,000 sq ft facility exclusively to the NPC for the whole afternoon.
@npcworldwideofficial @npcnewstv @npcfitbody @npcwellness @npcworldwidewellness @ifbbproleaguewellness @npcfloridaofficialpage @danray @d_amelio_manion @gardner.tortuga @t_manion @frank_sepe @sergioolivajr @darremcharles @indiapaulino @jenniferdorie_ifbbpro @ifbbjondelarosa @thesleestak @maylaash @ashahadley @yarishna @carlasalotti @itsarielkhadr @ruff_diesel @ifbbpronataliacoelho @darajahillfit @ifbblatoyiafarley @therealoislane_ifbbpro @jeremypotvin_ @cementfactory @fitbodyfusion @jamidebernard @jourdanne__ @ashlyn_ifbbpro #npcbodybuilding #npcfitness #npcmensphysique #npcclassicphysique #npcwomensphysique #npcfigure #npcbikini #npcwellness #ifbbprobodybuilding #ifbbpro212 #ifbbproclassicphysique #ifbbprofitness #ifbbpromensphysique #ifbbprofigure #ifbbprowomensphysique #ifbbprobikini #ifbbproleaguewellness