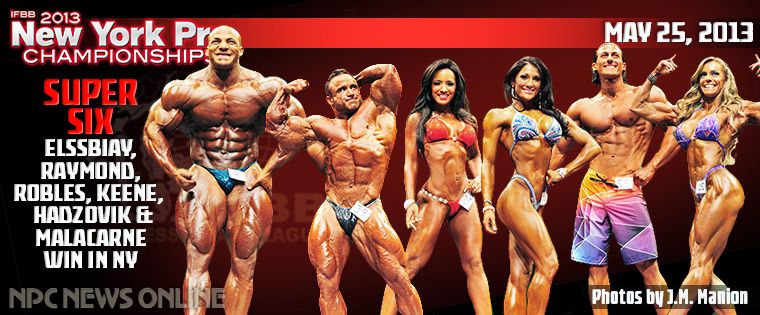 With 134 total competitors across six divisions, the 2013 New York Pro will go down as the biggest contest in IFBB history. It will also go down as one of the most unpredictable, as Mamdouh Elssiaby, Sami Alhaddad, Candice Keene, Yeshaira Robles, Juliana Malacarne and Sadik Hadzovik all won their respective divisions.
In Men's Bodybuilding, the contest was shaping up to be a showdown between Victor Martinez and Cedric McMillan, with a few up-and-comers with experience on the New York stage (Juan Morel and Jon Delarosa) expected to make things interesting in the top three. Mamdouh Elssiaby, the 2012 Amateur Olympia winner competing in his first IFBB contest, was expected to mix things up in the top five – but the 280-plus pound mass monster did far better than that. Elssiaby – nicknamed Big Ramy – displayed an unmatched combination of shape and conditioning that propelled him to the win.
That proved to be too much for eventual runner-up Martinez, who hadn't competed since placing fourth at the 2011 Sheru Classic. Martinez took the stage roughly 15 pounds lighter than he was in previous outings and it showed when he went to-to-toe with Elssiaby.
In the 212 division, late-entrant Jose Raymond won in New York for the second time. Raymond, the 2011 212 champ, didn't decide to compete in New York until Friday afternoon. He had planned on competing in Toronto a week later, but when a guest-posing appearance was cancelled for this weekend, Raymond decided to throw his hat in the ring. Sami Alhaddad placed second for the second straight year while Mark Dugdale placed third.
Candice Keene and Juliana Malacarne both successfully defended their titles in the Figure and Women's Physique divisions.
Keene was coming off a win at the Figure International last March, where she got the best of current Figure Olympia winner Erin Stern for the first time in her career. Heading into New York, she was faced with an equally daunting task – taking down two-time Figure Olympia and three-time Figure International winner Nicole Wilkins. But that matchup fizzled when Wilkins came in off for the third consecutive contest dating back to last year's Olympia, leaving the door wide open for Keene to win for the second straight year in New York. Wilkins, meanwhile, dropped to third behind first-year pro Swann Cardot, the first time she has finished out of the top two in a Figure competition since the 2008 Olympia.
Yeshaira Robles and Sadik Hadzovic each won for their first New York Pro titles in Bikini and Men's Physique.
It was the fourth career win for Robles, who was coming off a win at the Pittsburgh Pro in early March. Ashley Kaltwasser, on the heels of her win at the Powerhouse Classic, placed second while Lindsey Waters finished third in her pro debut. Waters earned her pro card just one week ago by winning the Overall at the NPC Junior USA Championships.
Hadzovic's win was his first of 2013 and second of his career. Anton Antipov, the Powerhouse Classic winner, placed second while Matt Acton finished third.
Go here for full results and galleries from the New York Pro!
SCORESHEETS
MEN'S BODYBUILDING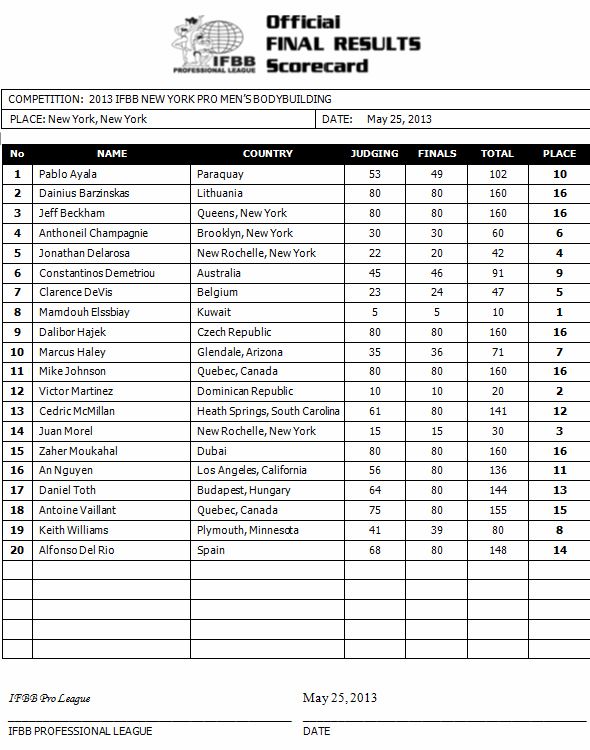 212 MEN'S BODYBUILDING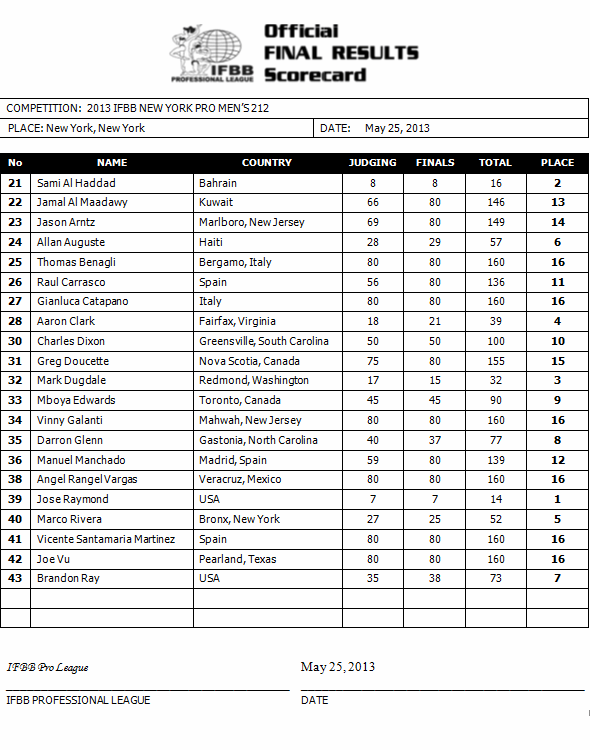 FIGURE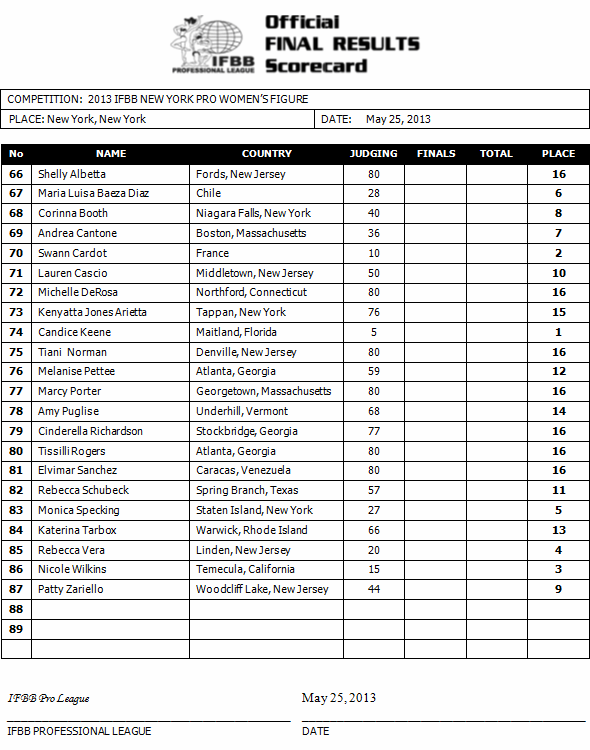 BIKINI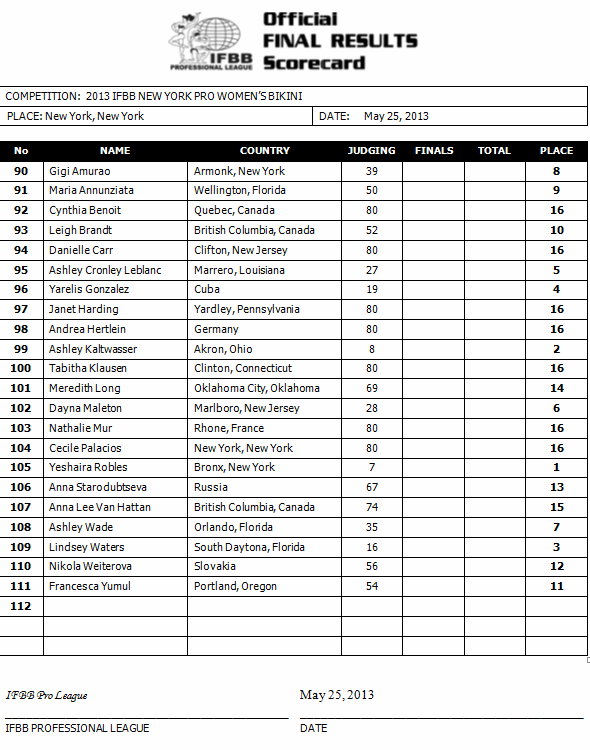 MEN'S PHYSIQUE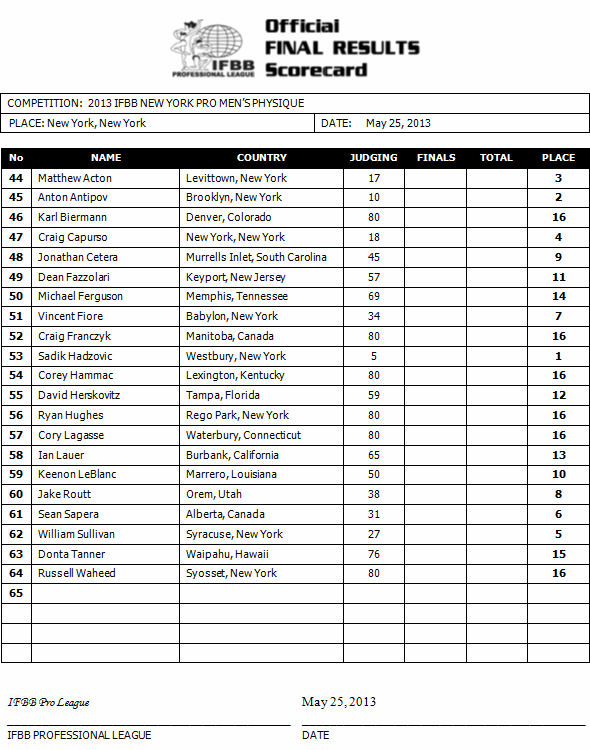 WOMEN'S PHYSIQUE