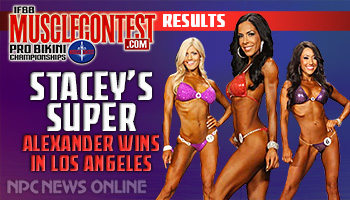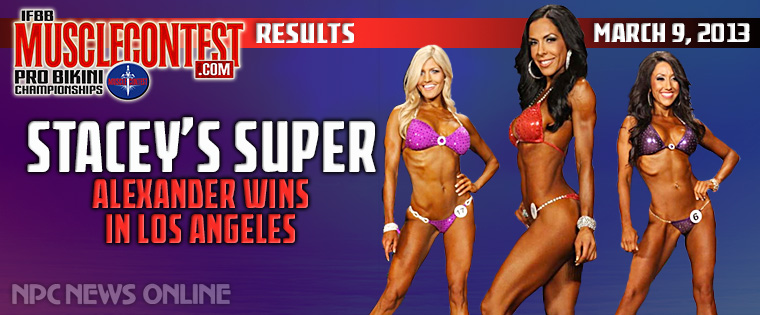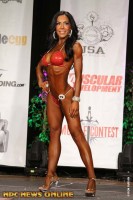 With 24 competitors in a lineup boasting a mix of accomplished veterans and talented newcomers, the MuscleContest.com Pro Bikini Championships promised to be one of the most unpredictable bikini competitions in Southern California history. But from the time she took the stage as Competitor Number 3 at the afternoon prejudging, Stacey Alexander left little doubt as to who would be favored to take home the win at the evening finals.
Displaying her best overall look to date and brimming with confidence, Alexander earned straight firsts on the judges' scorecards to earn the second win of her two-year IFBB career. Alexander, who earned her pro card at the 2011 NPC Nationals, notched career win No. 1 at last year's Desert Muscle Classic. Alexander placed fourth at the 2012 MuscleContest Championships.
Tiffany Boydston, coming off an eight-place finish at last week's Bikini International, placed second while Crystal Matthews scored the best finish of her career by placing third. Brittany Tacy (4th) and Taylor Matheny (5th) rounded out the top five.
Go here to see contest photos from the Musclecontest.Com Bikini Championships!

SCORESHEET