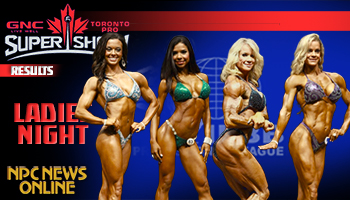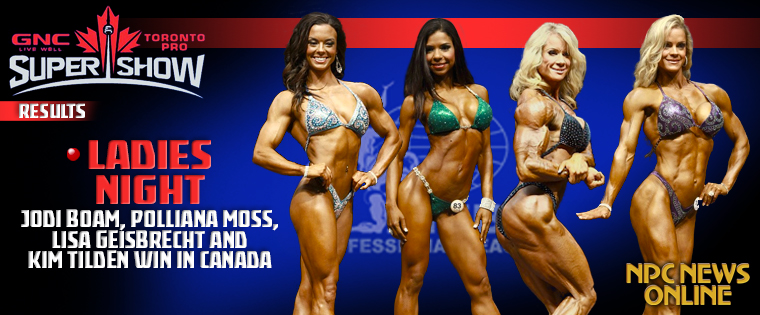 Jodi Boam, Polianna Moss, Kim Tilden and Lisa Giesbrecht all won their respective divisions on Friday night as the women took center stage for the first half of the Toronto Pro Super Show at the Toronto Metro Convention Center.
FITNESS: BOAM DEFENDS HER TITLE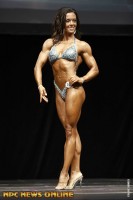 As the 2011 Toronto Pro Fitness champ and resident of Burlington, Canada – which sits roughly 40 miles north of the Toronto Metro Convention Center – Jodi Boam was faced with defending both her title and her home turf on Friday. She defended both well, winning the physique round and placing second in the routine to earn her second consecutive win and the third of her pro career.
Boam, who turned pro at the 2010 Canadian Nationals, won the Pittsburgh Pro on May 5, making her one of the brightest newcomers to the fitness division in recent years.
It was an all-Canadian top three, as Vanda Hadarean -who placed first in the routine round – finished as the runner-up while Fiona Harris placed third.
See the Fitness Photos and Final Results


BIKINI: MOSS MAKES HISTORY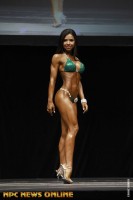 A week ago, Polliana Moss was just one of the 100-plus NPC bikini competitors hoping to earn their pro card at the Junior Nationals. She undoubtedly had mixed feelings last Saturday, as she won her class and one of the three pro cards given out in the bikini division, but missed out on winning the Overall title. Tonight definitely made up for it though, as Moss made history by becoming the first competitor to ever win a pro card and an IFBB contest in consecutive weeks.
Jennifer Chapman (2nd) and Yeshaira Robles rounded out the top three while pre contest favorite Dianna Dahlgren – coming off a top-three finish at the 2011 Olympia – fell to fifth.
See the Bikini Photos and Final Results


WOMEN'S PHYSIQUE: KIM'S CLIMB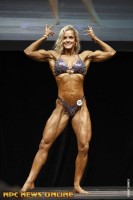 Kim Tilden's debut in the Women's Physique division at the Europa Show of Champions in April didn't exactly make her one to watch when making precontest predictions for Toronto. But the first-year division has been somewhat unpredictable at times as competitors make adjustments, and Tilden continued that trend on Friday by jumping from ninth to first to become the sixth competitor to win a WPD contest this year.
Tilden turned pro at the North Americans in 2008 but had competed only twice as a pro entering Toronto, finishing 15th at the Figure International in 2010 and ninth Women's Physique at the Europa show of Champions.
CeaAnna Kerr (2nd) and Debbie Barabble-Leung (3rd) rounded out the top three.
See the Women's Physique Photos and Final Results


WOMEN'S BODYBUILDING: GEISBRECHT MUSCLES HER WAY TO THE WIN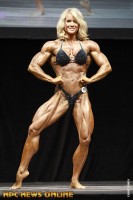 The saying "Once a bodybuilder, always a bodybuilder" applies to Lisa Giesbrecht both literally and figuratively. Geisbrecht, who earned her pro card by winning the Master's Overall at last year's North Americans, had been competing in bodybuilding her entire career until deciding to switch to Women's Physique for the Governor's Cup in March. Standing 5'8″ and weighing close to 170 pounds, Giesbrecht found out pretty quickly that the new division wasn't for her.
So what to do? Come back home to bodybuilding, which is exactly what Giesbrecht did for the Toronto Pro. The decision proved to be a smart one, as she beat out a lineup that include two top-five finishers from this year's Ms. International to earn win No. 1 of her IFBB career.
Kim Buck, who placed 5th at this years Ms. International, placed second while England's Wendy McCready finished third. Cathy LeFrancois, the precontest favorite who was coming off a 4th place finish at the Ms. International, fell to 7th.
See the Women's Bodybuilding Photos and Final Results


FITNESS SCORES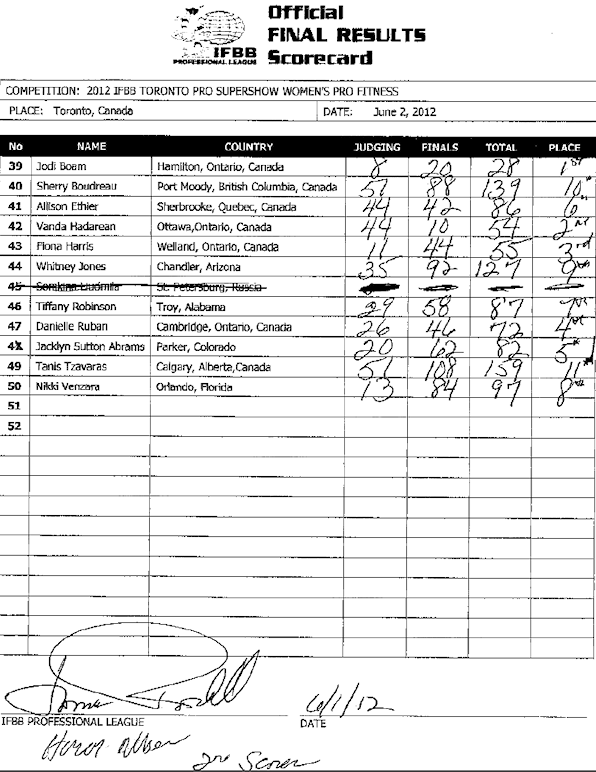 BIKINI SCORES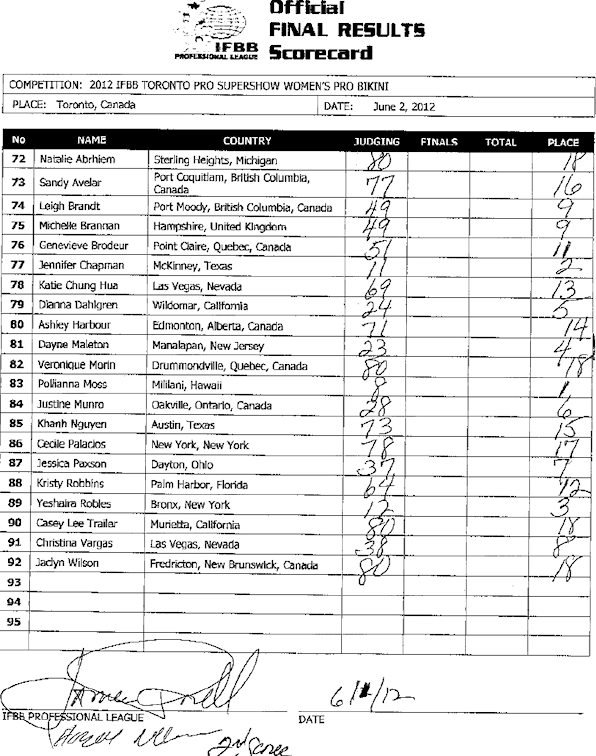 WOMEN'S PHYSIQUE SCORES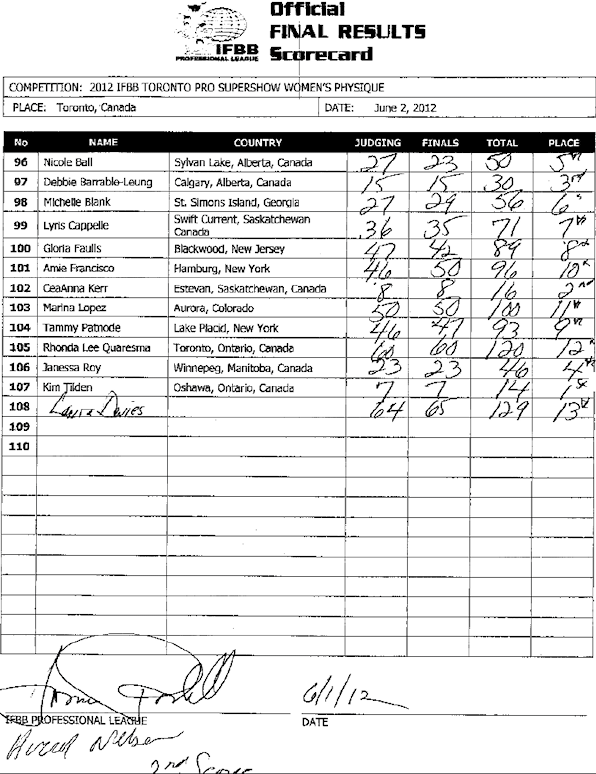 WOMEN'S BODYBUILDING SCORES