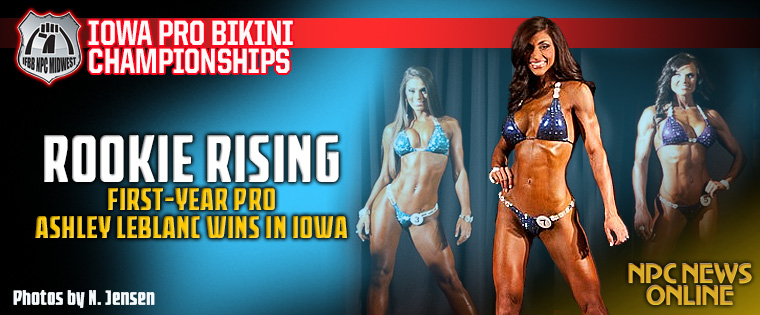 Ashley LeBlanc won the Iowa Pro Bikini Championships on Saturday, putting an exclamation mark on what was already an extremely successful start to her professional career.
LeBlanc won her pro card at the NPC USAs in July and hit the ground running in the IFBB Pro League, notching three top-five finishes in her first three competitions. With no clear-cut favorite heading in, LeBlanc came to Iowa as one to watch in what seemed to be a wide-open contest. But LeBlanc shut that door quickly at this morning's prejudging, earning straight firsts on the judge's scorecards en route to the first win of her career.
Crystal Green, an amateur competitor at this time last week, finished as the runner-up. Green earned her pro card seven days ago at the NPC Nationals in Atlanta by winning the C Class.
Three was the theme for Lacey DeLuca in Iowa, as the first-year pro placed third in her third pro contest, which – coincidentally – was her third straight top-three finish. DeLuca placed second at both the Valenti Cup and the Ft. Lauderdale Cup.
Go here for complete galleries!

SCORESHEET